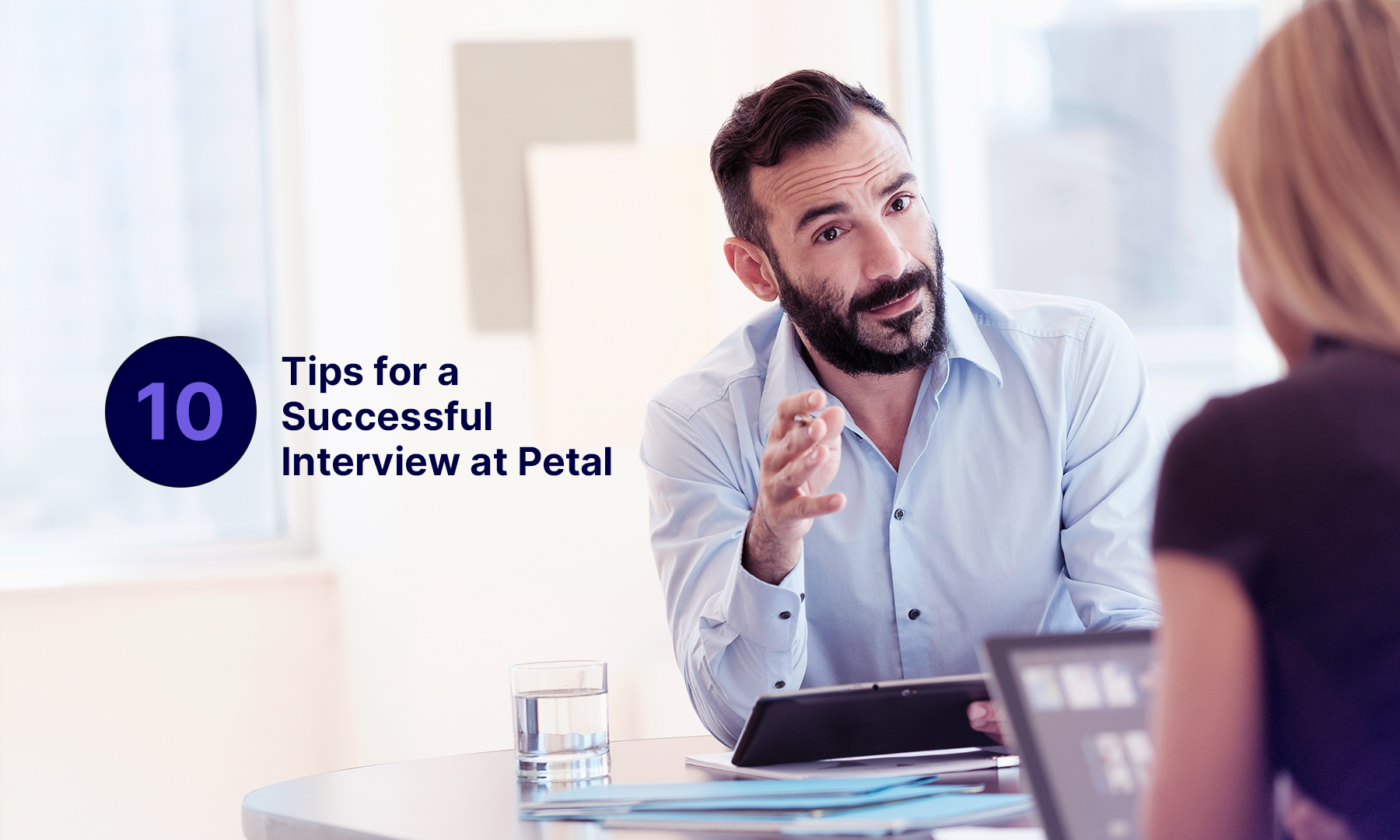 We want to help you put the odds in your favour for your interview, so we've compiled some of our top tips for a successful interview at Petal. Before even reading the first tip, you've already accomplished the first step: checking out this article. Great! Now, discover our winning recipe.
Before the interview
1) Learn the facts
The first thing to do before the interview, learn about us. Visit our website, social media, hiring platforms, etc. There's nothing better than coming to the interview with a base understanding of our product offerings, mission, vision, and values. Plus, you'll get a taste of the culture and life here at Petal!
2) Prepare your equipment
Most of our interviews take place via videoconference. Before you connect, ensure that your camera is working, that your microphone captures your voice, that you are in a quiet room, etc. Your time, like ours, is precious; let's not waste it on technical problems. You can even prepare a notebook to jot some things down if you wish.
3) Review your resume
This tip may seem obvious, but you shouldn't overlook it. We'll likely ask you specific questions about your previous experiences, so be sure to remember what's on your resume: job title, duties, length of employment, etc. We want to know more about your story. Your resume is the only document we've had so far to get to know you; ensure you have a good grasp of its content.
4) Think about what you're passionate about
Your resume is essential, but we also want to understand who you are as a person. What are your hobbies? What do you like to do in your spare time? Our culture is energetic and innovative. Are you the type of person who likes to be on the go? Do you prefer stillness? There is no right or wrong answer; we want to get to know you in addition to your professional experiences.
5) Make a list of what you like to do most and least
What are your favorite things to do? What kind of mandates do you like to receive? We want to make sure that your interests align with the role we are offering. You may find some of the tasks less enjoyable, but most of them need to stimulate you. For us, it's essential to have a fit on both sides for this to work because Petal isn't for everyone!
6) Prepare your questions
At the end of the interview, we'll ask you if you have any questions for us. So have some ready for us. It could be about the position itself, the company, our culture, the way we work, our industry, or anything; show us your interest in wanting to know more about Petal.
During the interview
7) Pay attention
During the interview, direct your full attention to the person interviewing you. What does that mean exactly? Turn off your cell phone, turn off your computer notifications, look at your camera and screen, and don't work during your interview! Our recruiters are not doing anything else while talking to you, and we expect the same from you.
8) Show us your personality
Don't try to change who you are for the interview. We want to see the real you. Do you have any favorite expressions? Use them! Although courteous and professional, our interviews are also quite friendly. You'll see that the interviewer will want to make you comfortable showing us your authentic self without putting up a false front.
9) Have confidence in yourself
As you probably noticed on our website, Petal is a company that is confident in its abilities and its growth. We're looking for people who take ownership of their skills and aren't afraid to put them on display. Trust yourself and your expertise. We invite you to an interview because we think you may have what it takes to work with us. Show us!
10) Don't stress
Petal is a young and dynamic company. You'll see this reflected in our interviews. Don't stress, be in control. Take the time you need to answer the questions. If you haven't understood, don't hesitate to ask us to rephrase them. Have fun and never forget: YOU GOT THIS!
It's time to do your interview!
There you have it, the secrets for a successful interview at Petal. We can't wait to meet you and learn more about you. While you're waiting for your interview, if you haven't already done so, we invite you to subscribe to our social media channels: Facebook, LinkedIn et Instagram. We look forward to speaking with you!