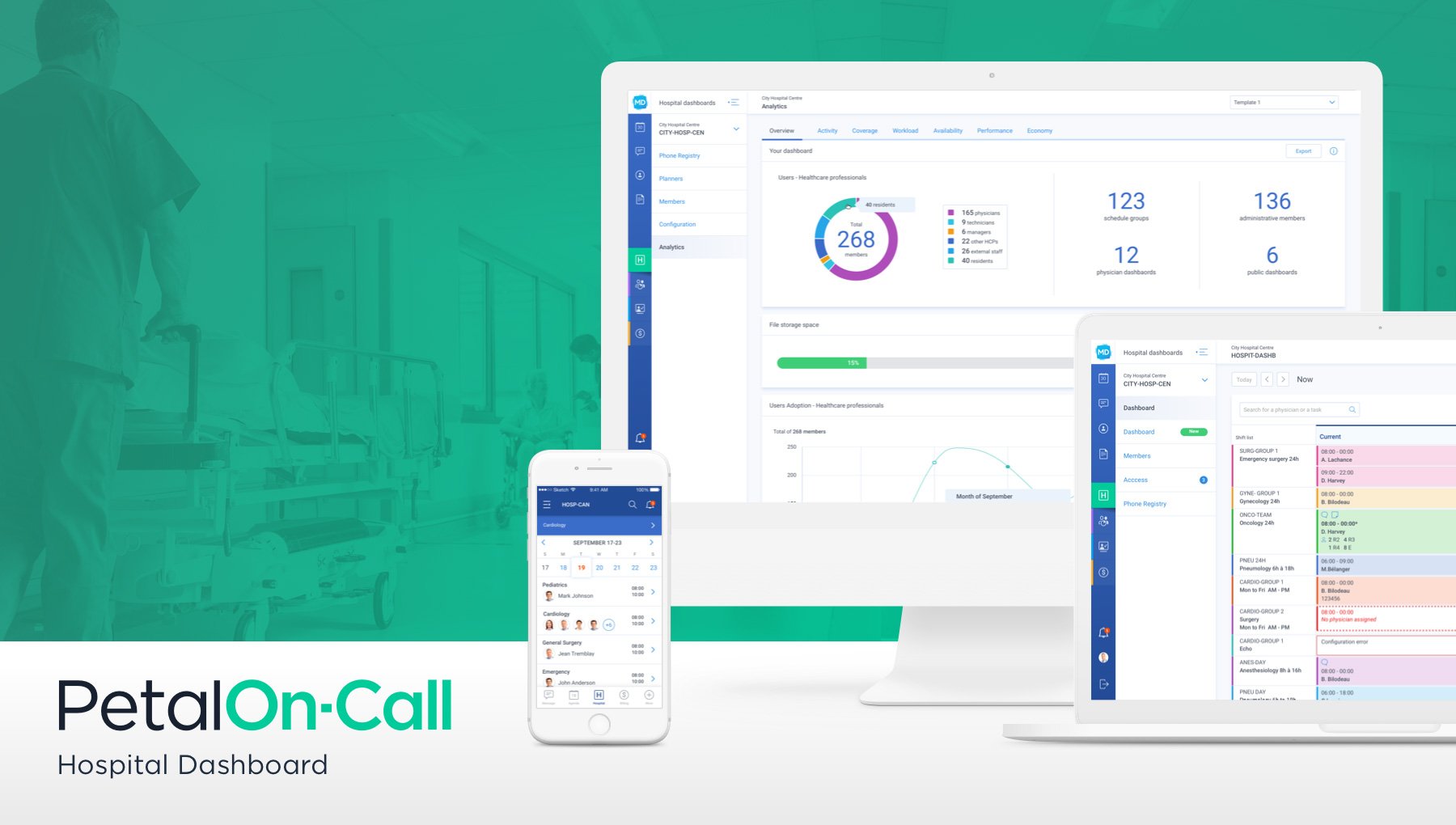 Designed in collaboration with doctors and health managers, Petal On-Call is a Web-based solution developed by PetalMD that digitizes and centralizes on-call and clinical physician schedules for all the departments in a hospital.
You will find in this article, the four main components of this computerized solution, as well as their main features and benefits. You will see how it is possible to facilitate access to health care and optimize hospital management processes in place without necessarily hiring additional staff.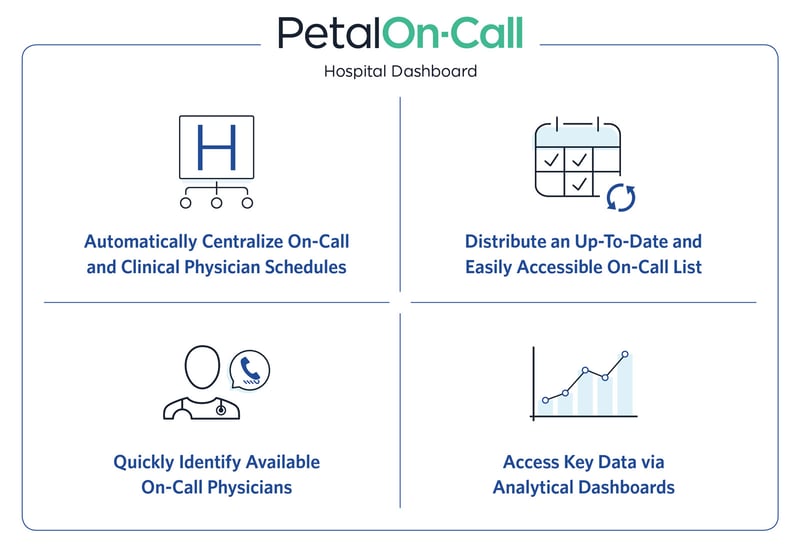 1. Automatically Centralize On-Call and Clinical Physician Schedules
The system aggregates on-call and clinical schedules of physicians from all medical services to automatically generate a centralized and easily accessible on-call list, which is viewable from any smart device. On-call shifts and clinical schedules are entered directly into the Web platform by physicians or administrative staff. This avoids the dispersal of information in different formats.

Key Benefits
Significant time savings for physicians and administrative staff

Hospital-wide standardization of scheduling formats for on-call and clinical schedules

Reduced risk of errors related to the manual transcription of information on different media



2. Distribute an Up-To-Date and Easily Accessible On-Call List
Management, physicians and administrative staff have access to the on-call list from their mobile device or computer, with a display adapted to their role in the hospital. Individual distribution of the on-call list to all stakeholders is no longer necessary.
Scheduling changes are instantly displayed in the centralized on-call list, providing up-to-date information for all hospital staff. It is therefore no longer necessary for staff to transcribe information about schedule changes on multiple media.

Key Benefits
Significant reduction in the risk of oversights or mistakes during on-call shift changes

Time saved each time a change is made to a schedule

Simplification of communication processes and on-call management

Greater autonomy for physicians during shift exchanges
3. Quickly Identify Available On-Call Physicians
From the centralized on-call list, authorized responders can easily identify on-call physicians based on their specialization or schedule, allowing them to quickly communicate with the right physician(s) and avoid communication errors. This reduces communication times between users and is particularly critical in emergency situations, where every minute counts.
It is also easy to see which physicians are available as replacements and to communicate with them quickly, without having to go through multiple intermediaries.


Key Benefits
Faster patient management in emergency situations by reducing communication delays

Independent and autonomous access to the list of on-call physicians for all authorized personnel, without having to go through an intermediary

Quick identification of scheduled on-call physicians, regardless of the medical department



4. Access Key Data via Analytical Dashboards
With Petal On-Call, managers have access to vital data in the form of analytical dashboards and statistical reports, which can help them when making strategic decisions. Used judiciously, this data can be valuable in adjusting a hospital's medical services to improve the patient experience, for example by reducing the time dedicated to patient management in an emergency situation.
In addition, the analytical dashboards make it easy to identify the medical services that comply with administrative requests in a timely manners.


Key Benefits
Access to key and reliable data on hospital performance for strategic decision making

Assurance of providing optimal coverage at all times
Learn More about the Deployment Process and Configuring Access Rights for Petal On-Call
For a detailed description of all deployment process stages of Petal On-Call in hospitals, a list of key features and examples of how to set up access rights between different stakeholders (managers, physicians, nurses, etc.), feel free to download the full product sheet below.