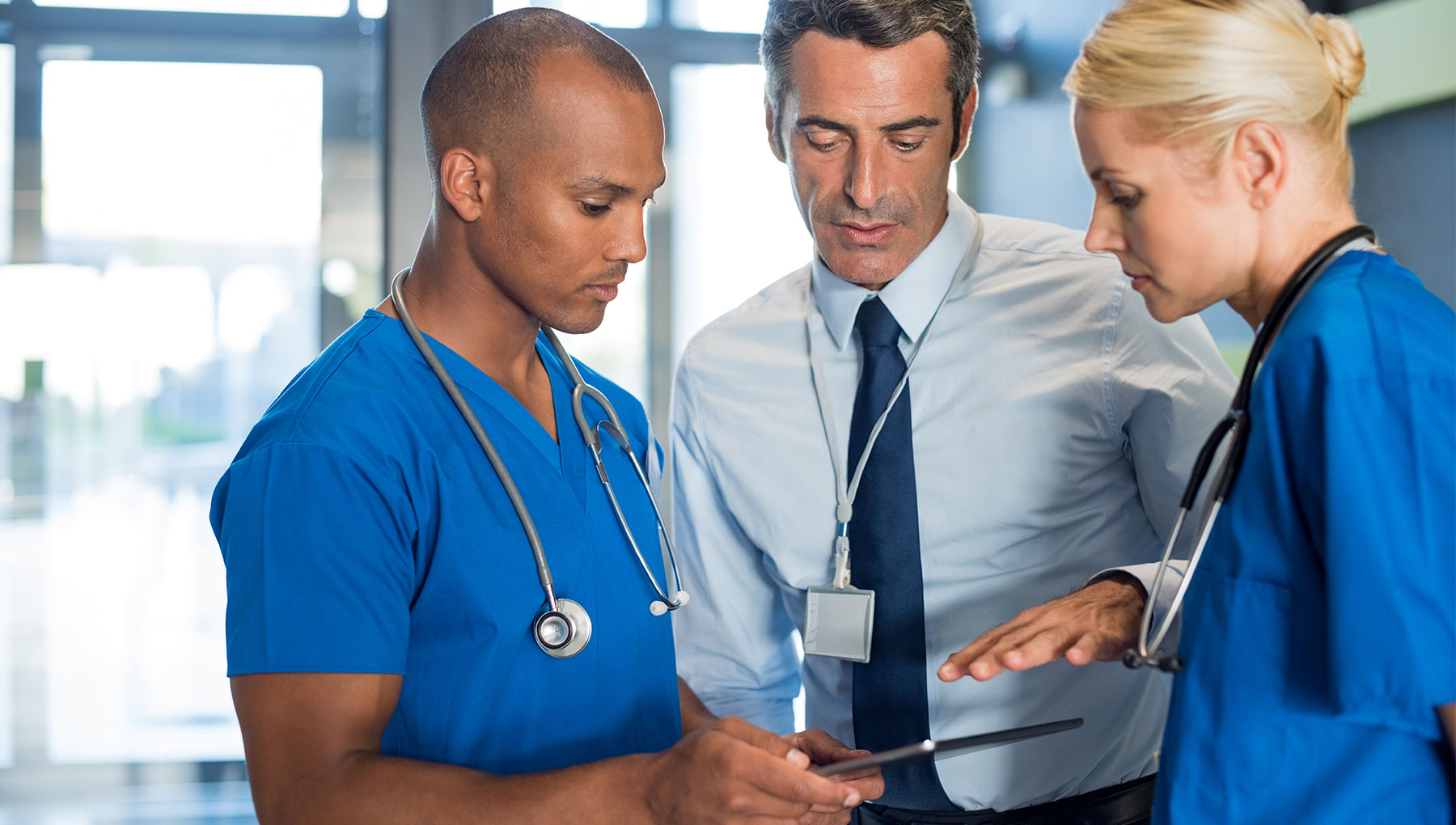 Are you responsible of creating and managing the schedules for your team of physicians? Or do you think your group of physicians would benefit from digitizing their schedules? Even if you're really motivated to simplify your group scheduling with an automated solution such as Petal Scheduling, convincing your colleagues to switch to digital can be a daunting task.
And yet, computerized solution such as Petal Scheduling not only benefits the planner, but also every doctor on the schedule. After helping hundreds of medical services in managing their schedules over the past 10 years, the PetalMD team would like to share some tips with you to help you convince your colleagues to go digital.


1. Invite Your Colleagues to Watch a Custom Demo
You may be an exceptional speaker, but it is highly likely that you are more specialized in medicine than in digital technologies. For that reason, you may want to delegate this task when your colleagues ask you what they could gain from adopting a scheduling solution. What about entrusting our team with this task?
By inviting some of your colleagues to a specialized demonstration of the tool, you will make them aware of the ways they could benefit from a scheduling solution. For example, they will be shown how the tool allows everyone within the group to have their demands met more easily and with greater fairness. In addition to reassuring your colleagues about the usefulness of the tool in their daily lives, the demonstration will give them the opportunity to ask their questions to a health technology consultant.
2. Mention That Shifts Will Probably Be Distributed More Equitably
According to our experience, medical teams usually appreciate it when the least-coveted shifts are equitably distributed among all the group's members. These shifts can include on-call duties, night shifts, weekends or a particularly demanding task. The same logic applies to the most popular shifts, whether because they represent higher incomes or because they are more enjoyable for one or many reasons (location, intensity, time period, etc.).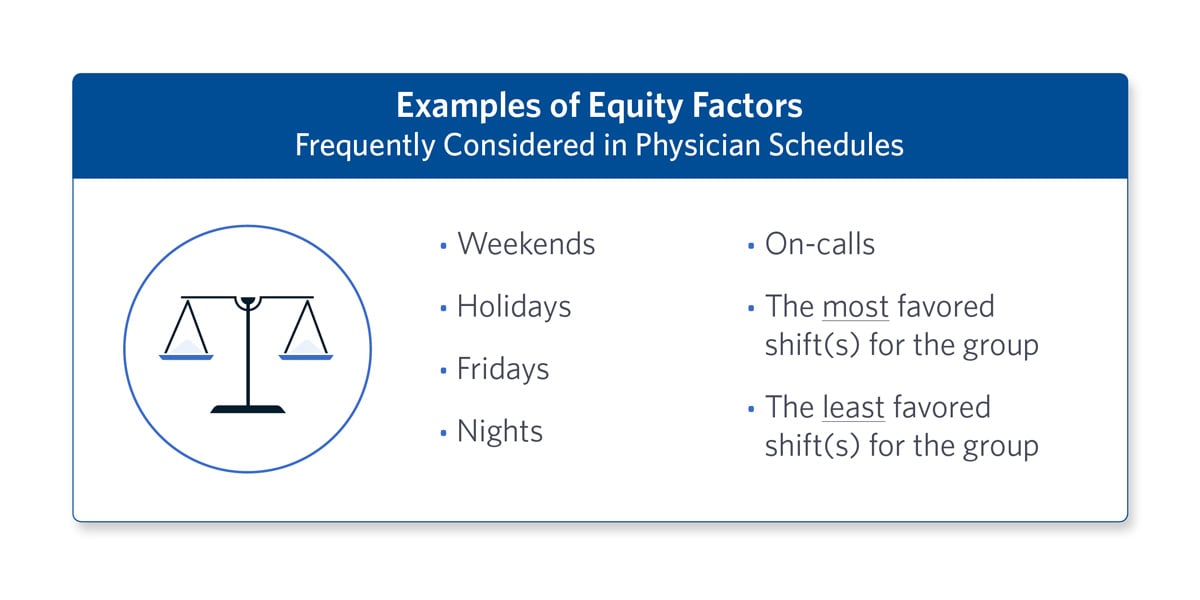 As a planner, you will be better able to ensure a fair distribution of shifts when using a computerized solution. Indeed, equity targets will be transposed into mathematical rules and thus they will always be taken into account during the planning process. If necessary, you will even be able to provide your colleagues with reports illustrating the fair distribution of specific shifts.
---
See also :
---
3. Share Specialized Documentation on Digital Scheduling
To increase your colleagues' confidence, do not hesitate to share your research and the reasons why you want to opt for a digital scheduling tool. This can be done by sending documents that illustrates the features and benefits of such a solution.

You can also send case studies of physician groups with similar challenges to yours and who have seen a significant improvement in their scheduling processes following the adoption of the digital tool developed by PetalMD. We suggest the following documents:
4. Emphasize How the Scheduling Process Affects the Quality of Life for Physicians
The schedule literally is an arrangement of your colleagues' professional lives: the more efficiently the schedule is managed, the more it will have a positive effect on their quality of life. You and your colleagues may have already experienced a problematic situation caused by a shift change that was not communicated effectively, or by a planning process that did not take into account the fact that someone was unavailable.
Without a computerized solution that clearly displays the availability of all physicians (and that is designed to facilitate shift swaps), several calls and emails may be necessary to find a last-minute replacement. Those procedures involve a loss of time and a significant amount of energy, in addition to risking the unnecessary disturbance of your colleagues. Feel free to use real-life examples to convince your colleagues that now would be a good time to adopt a solution specifically designed for managing doctors' schedules.
5.

Use References from Other Doctors Who Are Satisfied with Petal Scheduling
The best people to advise doctors on the tools best suited to their reality are doctors. Many physicians who have adopted Petal Scheduling have agreed to share their experience with their peers. That way, not only do they refer a tool that made a difference in their scheduling, but they participate in the digitization of the health system in their own way.
Do not hesitate to contact one of our specialized advisers to obtain referrals from other groups of satisfied physicians. You will be able to see with your colleagues how Petal Scheduling has enabled medical services similar to yours to effectively meet their scheduling challenges.
" Automated scheduling tools saves us a lot of time and shift trades between cardiologists are now much easier. Now that we know the benefits of Petal Scheduling's automated schedules, it is hard to imagine how we previously managed scheduling without an electronic tool like PetalMD."

Faisal Aziz,


Regional Cardiac Program Leader, Vancouver General Hospital
" The software automatically builds a schedule with shifts that are more spread out, which positively affects a physician's work life balance as they have more time to rest between shifts."

Physician and Chief Planner,


Peterborough Regional Health Centre

6.

Highlight the Autonomy Gained in Managing Schedules
In addition to having access to their personal and group schedules at all times, the physicians in your group will be able to trade shifts between each other directly from their mobile application or their computer. They will not be dependent on an assistant to send their absence requests and will be able to ensure that the information has been correctly sent and received.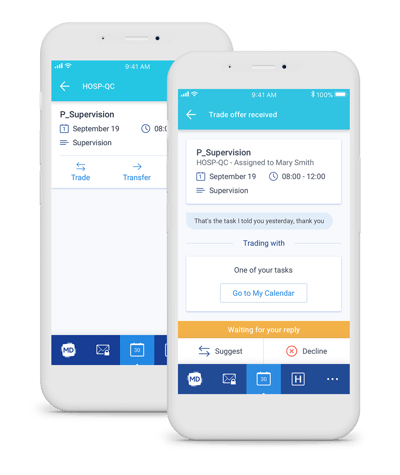 Physicians can offer shifts to the entire group or to a specific colleague via the mobile app or their computer. The planner may decide whether or not to approve shift trades prior to reallocation.
7. Show Your Colleagues an Overview of the Interface
In order to make navigation as simple and intuitive as possible, the Petal Scheduling interface has been developed in collaboration with many doctors. Since it is likely that your colleagues would like to see what the tool looks like before getting it, feel free to share the video below.
This video will allow your colleagues to see:
A concrete overview of the interface and its simplicity,
A detailed demonstration of the main features, including shift swaps and a group calendar,
A presentation of the customization options.
8. Get Your Colleagues to Think about Long-term Scheduling Issues
One day, the responsibility of creating and managing the schedules for your medical team will go to someone else. When this planner change occurs, how will you ensure accurate knowledge transfer and avoid repetitive learning of the rules that govern your group's schedule?

With a scheduling solution specifically designed for physicians, the rules of the medical service are centralized and saved. They do not depend on the knowledge of a one or two people. By ensuring the continuity of the rules which determine an optimal distribution of shifts, your colleagues will increase their chances of having their requests respected when a new person is responsible for the schedule. In addition, through automated planning, the next scheduler will be able to gain up to 80% of the time they would normally invest in scheduling.
For more information, please call our team at 1-888-949-8601 or ask your questions to our specialized advisors.