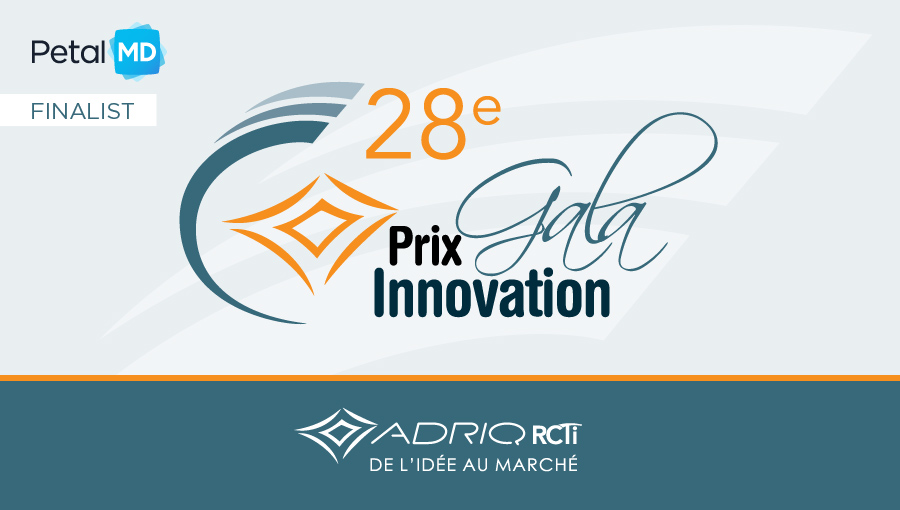 We're happy to announce that PetalMD has just been named a finalist for the Gala des prix Innovation ADRIQ, one of the most prestigious event in the innovation sector for Quebec. The gala will be held on Thursday, November 22, 2018 in Montreal and will bring together more than 450 decision makers from the research and innovation communities from all around Quebec.
In 2018 alone, PetalMD has already received two important recognitions for its technology. The company won the Optimizing Innovation Technology Award at the TELUS Health Innovation Gala and the IT Health Company of the Year Award at the Medlys Gala. This time, the company has been nominated in the category of Innovation | SME award, for companies with less than 500 employees.
A Quebec Success Story
Even while pursuing its growth in Europe and Canada's other provinces, PetalMD places a special emphasis on Quebec healthcare facilities. Nearly half of Quebec's 23,000 physicians have access to their schedules via a solution developed by PetalMD. These users are located in 74 hospitals throughout Quebec.
The strong presence of PetalMD in Quebec is one of the reasons why the company has been nominated for the ADRIQ Innovation Award. Another reason is the positive impact its technological innovations have had on Quebec's healthcare system.
As a matter of fact, PetalMD has been working closely with Quebec physicians for almost 10 years, developing technological solutions to meet their challenges, mainly regarding scheduling management. The company has thus acquired a vast knowledge in the field and is using it to better equip health facilities.
The Key to Success: Adapting Technologies to the Specifics of Quebec's Healthcare Institutions
The strategies that PetalMD uses to help computerize Quebec's healthcare system are an important part of its ADRIQ nomination. Rather than directly addressing high-level management issues within hospitals; PetalMD has chosen to first address an issue that affects every group of physicians: schedule management.
This approach has allowed the R&D team to take into account, in their innovations, the specifics of each healthcare facility. As for the service teams, they have had time to better understand the reality of each medical group.
It's only after having developed a unique expertise regarding the technological challenges of Quebec physicians, and after having collected relevant data on each hospital's reality that PetalMD started to address more complex hospital management issues, such as the centralization of on-call lists.
Case Study - The Vinatier Hospital
Would you like to have a more concrete idea of how PetalMD's innovative technologies help hospitals improve their performance and their patient's experience? Feel free to download the case study: Simplifying the Planning and Management of On-call Physicians produced in collaboration with the Vinatier Hospital in France, available below for download.