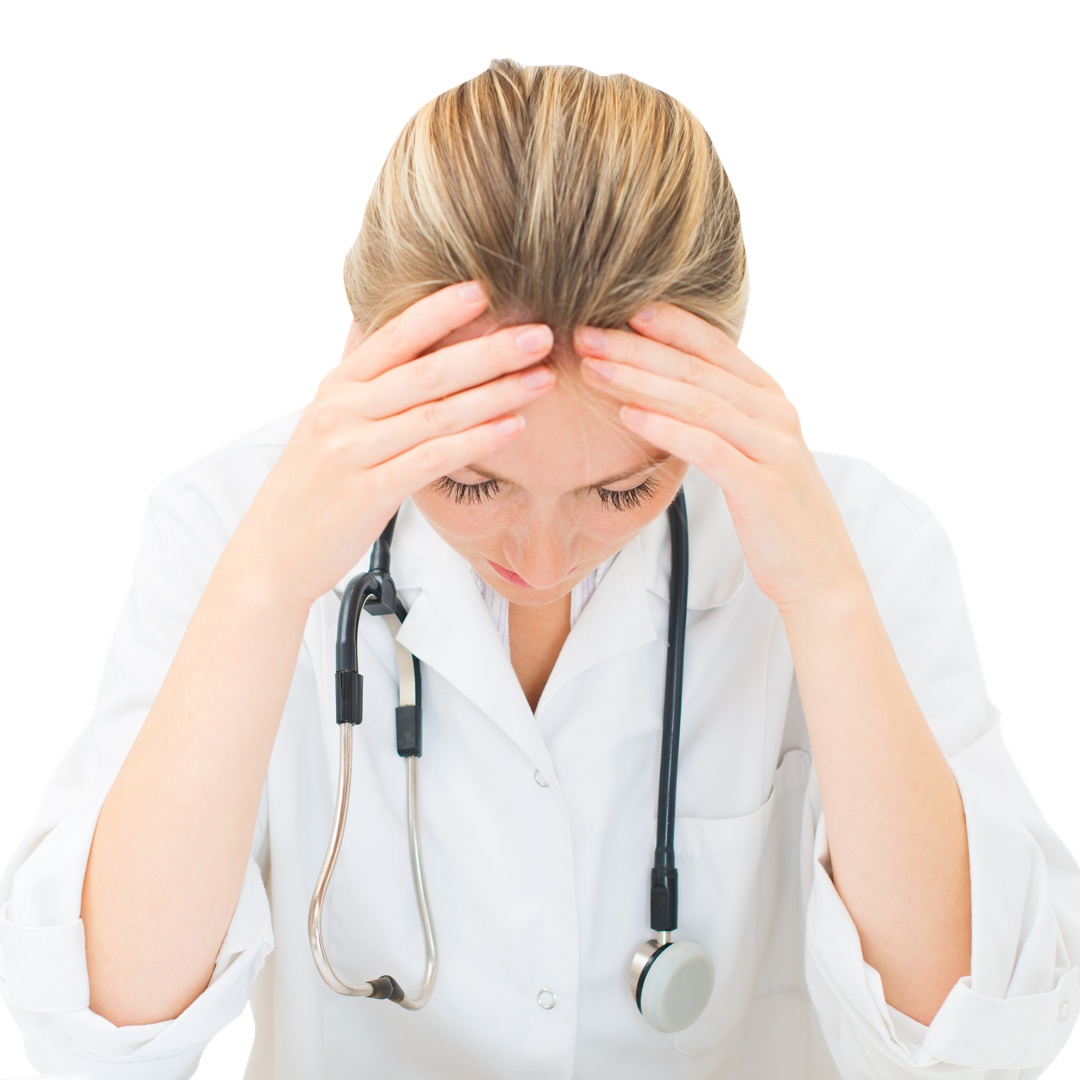 As a physician, you clearly have a busy schedule. From hospital to clinical hours, a 9 to 5 work-day is often far from reality. When appointments and procedures are done for the day, there are still follow-ups, paperwork, messages and phone calls to return. Saying that your work-days are long is an understatement. Where do you fit your personal time?
Vacation Time Interrupted, Again
When it's finally your "weekend", whether a full day or two days in a row, you can focus on your family, your friends and yourself. You may even have switched your shift with a colleague because you knew that your "me" time was long overdue and well deserved.
Unexpectedly, you receive a call at 2am from the hospital saying you need to come in for an emergency. Groggy, you slip out of bed and start getting dressed only to realize you weren't on call tonight. There was a scheduling mistake. Do you call the hospital back to tell them? Will they find the right person on time? Will the patient be ok? Should you go in just to be sure?
Physicians are overworked and stressed
If this case sounds familiar, you are not alone. Physicians are overworked and stressed. According to a study by the American Academy of Orthopaedic Surgeons (AAOS), 53% of physicians feel they have no time to relax and have fun.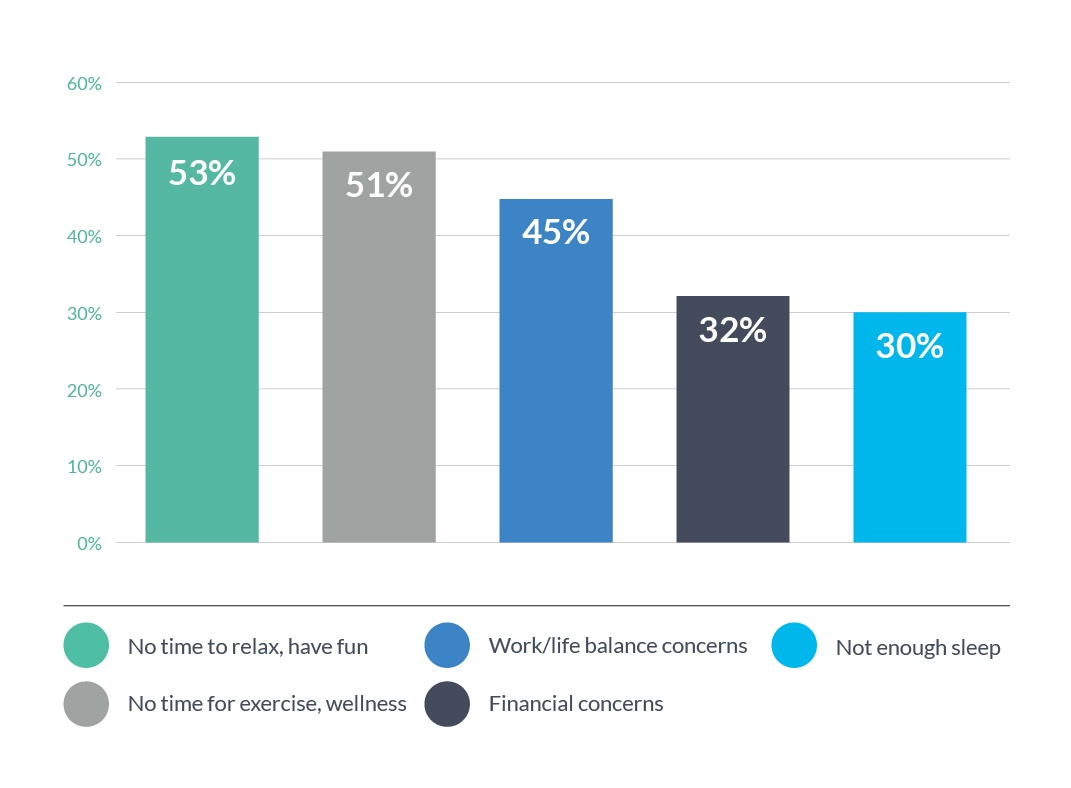 Leading cause of work-related stress: Paperwork
Stress is very present in the workplace and affects many aspects of a physician's daily work-life. The leading causes of work-related stress, taken from the AAOS study, show that paperwork, overtime and on-call issues are prevalent stress triggers for doctors.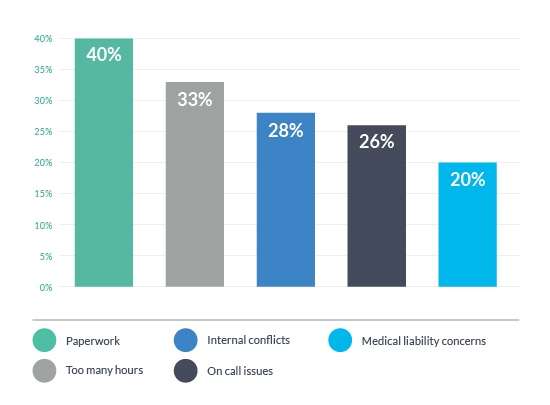 The AMA Insurance study highlights that nearly 25% of physicians work 60-80 hours per week and only 37% are happy with their current schedules. It's not surprising that a total of 49% of physicians would change their schedule to work fewer hours per week.
The Side Effect of Work-Related Stress: Burnout
As a physician, you diagnose burnouts, but that would never happen to you, right? Wrong. Nobody is superhuman. Kevin Pho, in his article More humanity, less physician burnout, states that:
"Physician burnout — and burnout in general — is at an all-time high."
According to the VITAL WorkLife and Cejka Search Survey that included more than 2,000 physician participants, 88% of them felt "moderately to severely stressed and burned out on an average day."

The typical signs of a burnout are:
Physical exhaustion
Depersonalization
Reduced sense of personal accomplishment
Emotional exhaustion
Avoid a Burnout: Take Charge of Your Schedule
As stated in the Medscape article: Physician Burnout: It Just Keeps Getting Worse,
"The strongest predictor of work-life balance and burnout [for physicians] was having control over their schedule and the hours they work."
YOU are the only one that can ensure your own work-life balance. Taking control of your schedule is the first step and technology offers significant time savings.
How to improve your schedule
Use technology, not pen and paper;
Optimize your schedule with automation tools;
Ensure your vacation time;
Transfer and exchange shifts.
Using technology allows you to centralize all your schedules, whether personal or work, in one place and have access to it anywhere, anytime. Notifications also ensure you never miss a thing.
Automation tools are a great way to save time. They optimize your schedule during its creation AND management, keeping you organized at all times.
With scheduling software, you can manage your vacation time months in advance and send your requests directly to the planner. You can also easily transfer and exchange shifts with the colleagues in your group. Technology gives you one less thing to worry about.
Improve Your Time Management With a Modern Scheduling Tool
PetalMD offers a scheduling tool for departments, clinics and hospitals. Whether in the basic FREE option or the advanced, the time savings are incredible. Most importantly, it quickly organizes your schedule and allows you to spend that precious time doing more important things.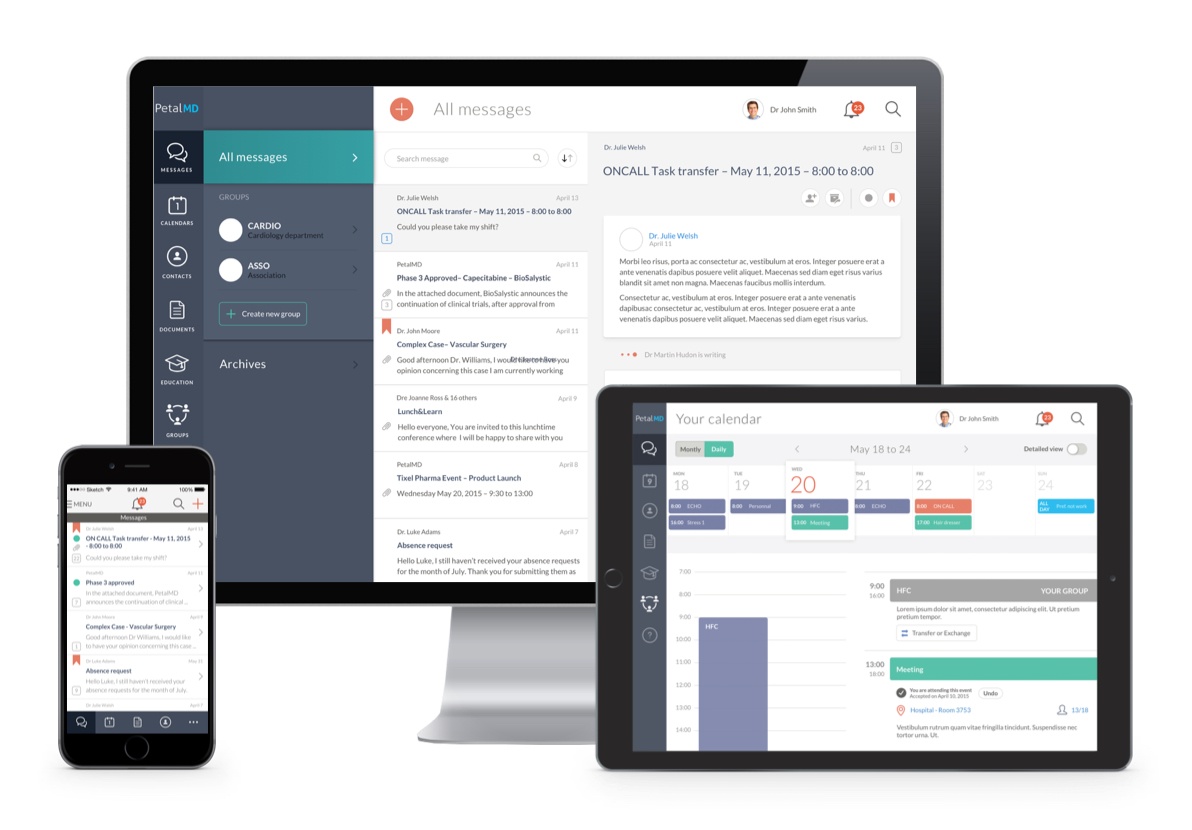 The web-based solutions allow physicians to:
Transfer and exchange shifts easily;
View their personal and group schedules in one place, in real-time;
Schedule their absences and vacation time easily;
Communicate privately through secure messaging;
Eliminate the chance of encountering scheduling mistakes.
When your schedule is organized, YOU feel organized and ready to take on your day. PetalMD has helped over 25,000 physicians take charge of their schedule and reduce work-related stress. After all, PetalMD's mission is to save physician time so they can focus on what's important to them, whatever that may be.