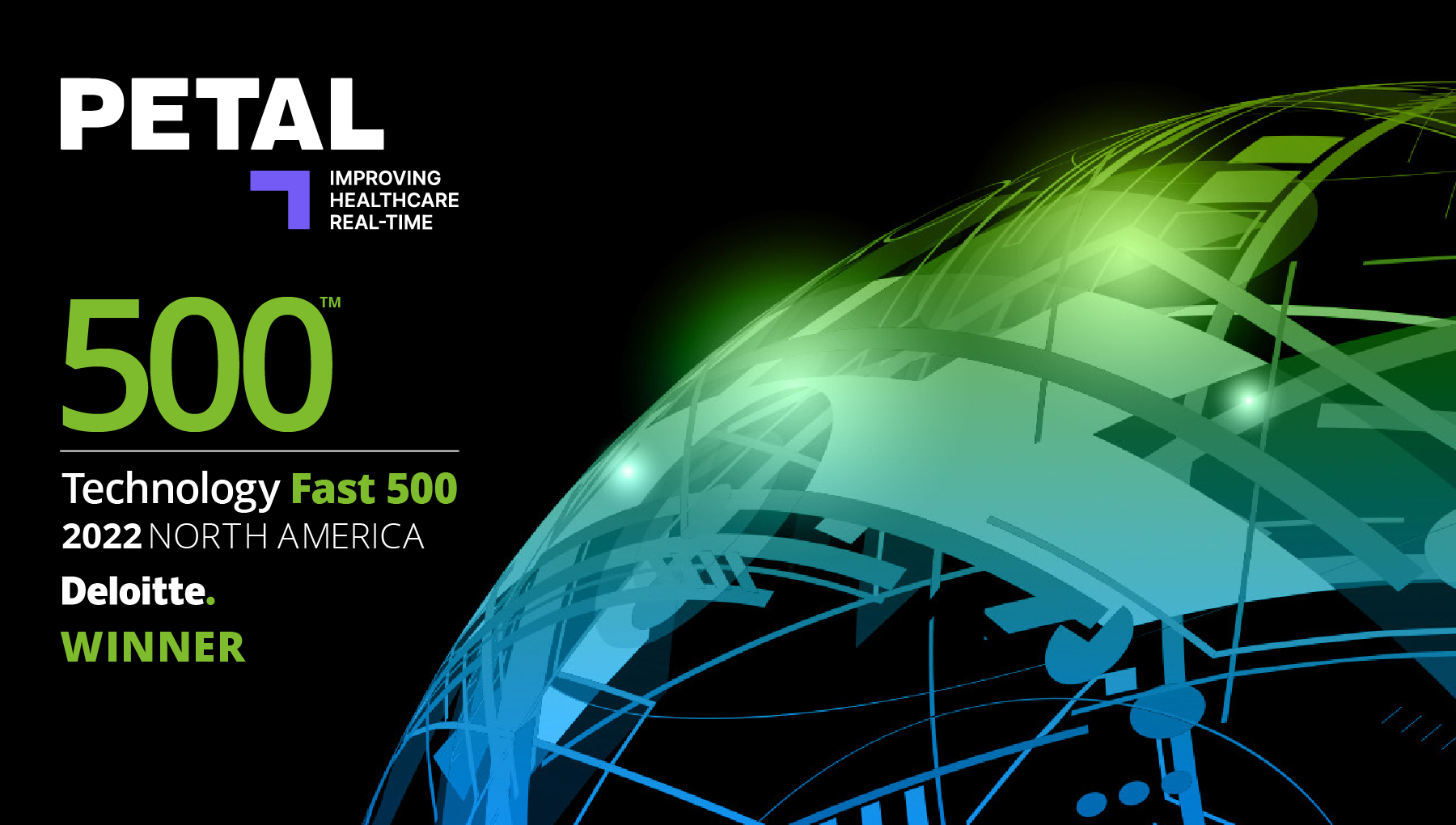 For the third year in a row, Petal, a well-known Canadian digital health technology company, has earned a place on the prestigious Technology Fast 500, an annual ranking of the 500 fastest growing companies, as measured by: revenue growth, leadership and innovation.
"This recognition we are receiving for the third year in a row is a statement of the commitment we have to providing the best possible solutions to healthcare facilities. Founded in 2010, Petal has quickly made a difference in hospital settings with our innovative technological solutions. Our teams are successfully combining caregiver and patient well-being with effective organizational management to improve the quality of care and meet the challenges of our health system, and we will continue to do so." said David Junca, Chief Revenue Officer at Petal.
The Technology Fast 500 ranking is released annually by Deloitte. It features 500 of the fastest growing technology, media, telecommunications, life sciences, fintech and energy technology companies in the United States and Canada. It is estimated that there are more than half a million of such companies in these two countries.
Petal placed 346th in the 2022 edition of this ranking, with a 401% revenue growth over the past three years (2018 to 2021). The company previously appeared in the rankings in 2021 (196th with 712% growth) and 2020 (136th with 873% growth). By achieving a spot on the list for a third consecutive year, Petal is demonstrating consistent business growth, while staying focused on its commitment to helping healthcare delivery organizations manage their capacity to improve access to care for all. A feat we are proud of in light of today's economy.
This is also the second major recognition Petal has received within the past few months. In September 2022, the company revealed that it was also listed in the Globe & Mail's: Business Ranking of Canada's Top Growing Companies.


Technology Fast 500
In order to be eligible for Technology Fast 500 recognition, companies must own proprietary intellectual property or technology that is sold to customers in products that contribute to a majority of the company's operating revenues. Companies must have base-year operating revenues of at least US$50,000, and current-year operating revenues of at least US$5 million. Additionally, companies must be in business for a minimum of four years and be headquartered within North America.
"As the past year has shown us, innovation in important areas such as life sciences is critical to addressing infectious disease and other global health issues," said Paul Silverglate, vice chair, Deloitte LLP and U.S. technology sector leader. "In addition, technology must keep pace with ever-changing consumer and corporate demands for faster, safer and more efficient solutions to new societal challenges. Each year I am in awe of the immense talent the Technology Fast 500 rankings reveal, confirming the winners' relentless pursuit of creativity and their ability to solve real-world problems that benefit us all."
"This year's Technology Fast 500 list is a true reflection of some of today's most determined and inspiring pioneers who have prospered by anticipating what's next, understanding what's needed to succeed and driving creativity forward," said Christie Simons, partner, Deloitte & Touche LLP and industry leader for technology, media and telecommunications within Deloitte's audit and assurance practice. "Representing all facets of technology, the winners have shown they not only have the vision but can also expertly manage their companies through rapid growth. We congratulate each winner on their impressive achievements."


Outstanding Achievements
Since its creation, Petal has become a key player for both public and private organizations seeking innovative and sustainable technologies in the healthcare sectors across Canada. The company, whose head office is in Quebec City, has nearly 300 employees.
"We know that healthcare systems are under strain around the world and it has become a global priority. From this comes our mission to design the tools that will make our systems more resilient and efficient while remaining patient-friendly. This is what drives our teams; to put our expertise and know-how to work for governments and organizations for the benefit of people." affirmed Patrice Gilbert, CEO of Petal.
Notable projects completed by the Petal team since March 2020 include:
Specifically, Petal's orchestration platform provides greater visibility into care delivery by matching medical supply with patient demand. It empowers decision makers to improve the quality of care for patients. Access to real-time, data-driven information allows health leaders to optimize the continuity of care during the patient journey and deliver the right care, at the right time, by the right professional.
Petal also provides technological solutions to healthcare facility managers and professionals which allows them to better manage clinical capacity and ensure full on-call coverage. By improving communications between the call center and healthcare providers, we enable caregivers to obtain fairer schedules and give them greater autonomy.

About the 2022 Deloitte Technology Fast 500™
Now in its 28th year, the Deloitte Technology Fast 500 provides a ranking of the fastest-growing technology, media, telecommunications, life sciences, fintech, and energy tech companies — both public and private — in North America. Technology Fast 500 award winners are selected based on the percentage of fiscal year revenue growth from 2018 to 2021.


About Deloitte
Deloitte provides audit, insurance, consulting, financial advice, risk management, tax and related services to a wide range of public and private companies in a variety of industries. It has a global network of member firms in over 150 countries and territories.


About Petal
Petal develops digital platforms that enable healthcare innovators to improve access to care by driving operational efficiency. The company, founded in 2010, is a Canadian healthcare technology leader specializing in real-time care orchestration and now has nearly 300 employees. Petal works with leading healthcare facilities in Canada, France, Switzerland, Belgium and the United States.
To learn more, contact one of our specialized advisors to book a free consultation or request a demonstration.