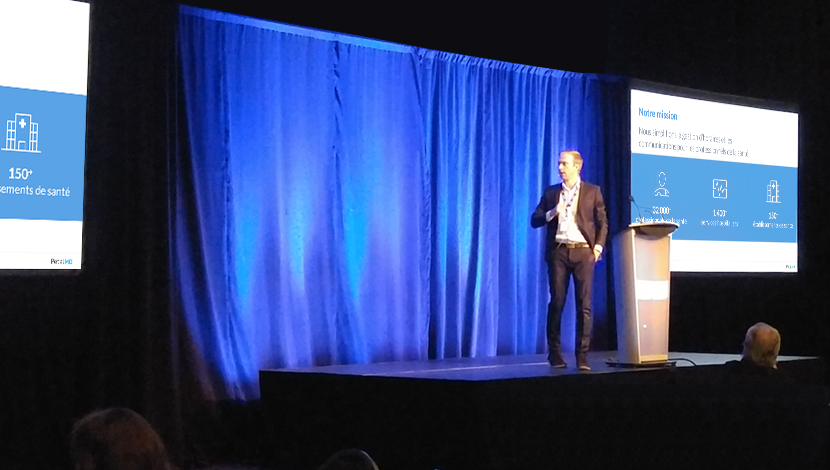 On November 23, 2017, the 1st edition of the Colloque Informatique Santé was held at the Centrexpo Cogeco in Drummondville. The PetalMD team was there to give the presentation Coup d'oeil sur une entreprise Québécoise (An overview of a Quebec company) and to attend the workshops given by various Quebec health players.
To start the day off, participants were invited to attend a talk by Francis Robichaud, Product Director of PetalMD. Mr. Robichaud discussed how Quebec's technologies can address healthcare management issues and some of the challenges healthcare institutions face when adopting new technologies. His presentation followed a speech given by Benoit Boivin, Chief Information Officer at the Treasury Board for the Government of Quebec, who presented an overview of the government's strategy for many of its IT projects.
Video of the PetalMD presentation (French)
Innovation in the Health Sector
Workshops about innovation and technological challenges
PetalMD had the chance to attend three of the nine workshops at the Colloque Informatique Santé, which all focused on the theme of: Opening to the reality of others and innovative practices for inspiration. Here's a retrospective of the event's first year.

Workshop 1
Information Security: Big Data, How Security Behaves in this World!
(French original title: "Sécurité informationnelle : Le Big Data, comment se comporte la sécurité dans ce monde!")
Yvan Fournier and Charles Demers-Tremblay, CHU of Quebecan Fournier et Charles Demers-Tremblay, Chu de Québec
This workshop raised participant awareness of the importance of security in the health sector by showing how organizations use certain kinds of big data. Did you know that, based on late payments and change of address information, Visa is able to predict a divorce with a success rate of 88%? Or that the US insurance company, Blue Cross, relies on big data (identifying 42 factors) to indicate the risk that their clients might go on to develop obesity and diabetes?
Mr. Fournier and Mr. Demers-Tremblay also addressed the problem of ransomware, where computer programs and hackers hold an institution's data hostage, then threaten to make it public if a fixed amount of money is not paid. The people who participated in this workshop surely came out of it a little more suspicious about technology companies, but afterward they had a better understanding of the importance of information security in the health sector.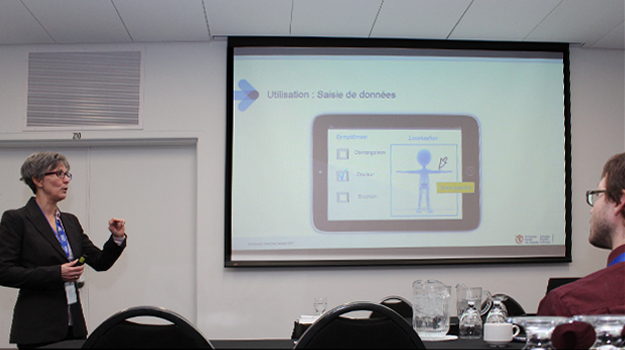 Workshop 2
Reference Terminologies: A Valuable Asset for Canadian Health Networks
(French original title: "Les terminologies de référence : Un atout précieux pour les réseaux canadiens de la santé")
Linda Parisien, Canada Health Infowayvan
Why should we be talking about terminology? "Because the world is changing," says Ms. Parisien at the beginning of her workshop. The expert from Canada Health Infoway shared the example of a hospital database that would associate the letter "M" with the gender "Man", the letter "W" with the gender "Woman" and the letter "X" with the genre "Unknown". Yet, if someone crosses this database with another hospital's database that uses the letter "X" to designate "Hermaphrodite", the big data now contains a big mistake. This example is simple, but the problematic exists in much more complex realities. Different tests have the same name, while identical tests have different names. Terminology issues complicated by the use of technology in the health sector are everywhere.
Before we even think about using artificial intelligence (AI) and collecting big data, we can eliminate unnecessary complications and problems if we ensure that the terminologies used by the different hospitals, laboratories and other health stakeholders are uniform. The workshop presented the example terminologies of: LOINC, pCLOCD, CCDD and SNOMED CT, and ran through for each term what the standardization process is. Ms. Parisien invited the participants to join the SNOMED CT Community or the PCLOCD Community on the Canada Health Infoway website for more information.
Workshop 3
ICTs as Levers for Clinical and Organizational Transformations
(French original title: "Les TIC comme leviers de transformations cliniques et organisationnelles")
Dr. Jean-Paul Fortin, Professor, Laval University
In 2001, the Quebec Ministry of Health and Social Services launched an official document called : Vision, Directions and Strategies for Telehealth Development in Quebec (Vision, orientations et stratégies de développement de la télésanté au Québec). More than 15 years later, telehealth remains a rather marginal practice in Quebec. Why is there such a delay regarding the adoption of telehealth in health institutions? Dr. Fortin has compiled a comprehensive list of the challenges facing health actors who want to implement new technologies on a large-scale. Using many diagrams, Dr. Fortin showed the participants how complex and unique the systems of each institution are. Then he explained why this complexity makes it difficult to integrate information and communication technologies (ICTs) on a large-scale.

Closing the conference and networking
Deputy Minister Richard Audet concluded the event with a conference called : Retrospective and Challenges of the Digital Switchover (Rétrospective et défis du passage au numérique). His presentation focused on the issues related to the standardization of technological solutions within Quebec healthcare institutions. The variety of health initiatives – local or regional – tends to create silos that make it difficult to share information. To eliminate these silos, it is important to adopt digital solutions that have the potential to be functional at a provincial level.
Mr. Audet also talked about the government's orientation and the various obstacles that could hinder the realization of technological advancement. He highlighted a factor that is all too often ignored by health and technology actors, namely : social acceptability. The government cannot implement uniformed computerized solutions faster than the speed at which the population is ready to accept and include them into their daily habits.
The event ended with a networking session, during which the PetalMD team enjoyed talking with many of its users and partners. If you are attending an event we are attending, do not hesitate to come see us!