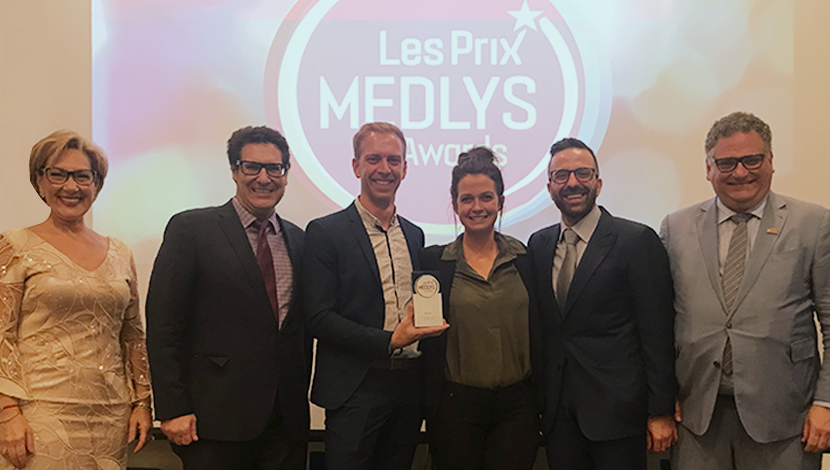 On September 18th the Medlys Gala took place, this is an initiative of the Pharmed Canada Network and Medec Association, during which lucky winners were announced for four prizes that highlighted innovations from remarkable Quebec companies.
Last spring, PetalMD and six other outstanding companies were nominated as finalists for the "IT Healthcare Company of the Year" award. They were Greybox Solutions., Novatek International, SOLABS, 320Medlink and Omnimed, (who is a proud business partner of PetalMD). The jury selected PetalMD to receive this award.


A Choice Based on Several Aspects of the Company
The jury's choice was based on several innovative aspects of the PetalMD's Web Platform. For instance, the way the platform is profitable to both patients and initiatives from human resource departments. These features have also positioned the company as a prime employer in Quebec. Further aspects are detailed in the article: PetalMD Finalist at the 2018 Medlys Awards. They are the result of 10 years of hard work and were recognized during the Medlys Gala's announcement which handed the victory to PetalMD.
The PetalMD team would like to thank all its physician users who believed in the quality of our solutions and have contributed to our success through their collaboration which improves the functionality of our products. We also wish to express our gratitude to Mr. Perry Niro, CEO of Pharmed Canada, and Mr. Benoit Larose, Vice President of Medec, along with the members of the jury which have contributed to the success of this event and which allow companies like PetalMD to shine even more in Quebec.
3rd Award for PetalMD in 2018
The "IT Healthcare Company of the Year" award is the third prize earned by PetalMD so far this year. Combined with the growing popularity of our company in Europe, this new award proves once again the efficiency of our solutions and its positive influence for healthcare facilities in Quebec and rest of Canada.
The recognition of PetalMD as a healthcare leader who promotes a collaborative climate between private enterprises and the public sector, which in turn allows for better healthcare services for citizen thanks to the use of technology, is what drives our search for better and more improved solutions.
Other Medlys Award Winners: