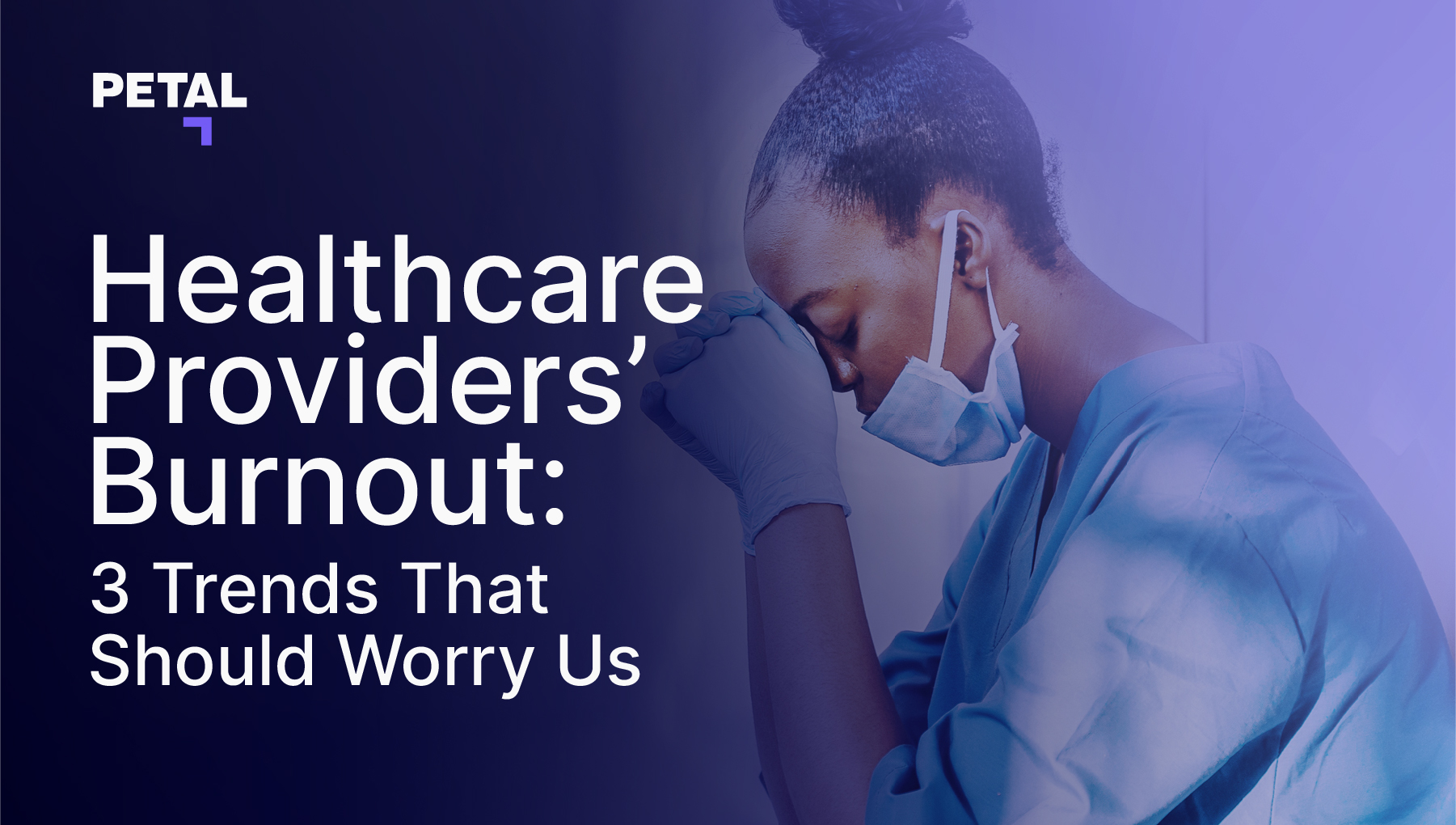 According to the NCBI, "one of three physicians is experiencing burnout at any given time". This interferes not only with their well-being but also with their ability to deliver care. Like any essential workers, healthcare providers struggle with their overwhelming schedules, negatively impacting their mental health and well-being.
1. Burnout rate at a spike among healthcare providers
For years, industry experts, healthcare providers, patients, and even governments have known that local healthcare systems are sick—literally. Even before the pandemic, healthcare provider burnout rates, on average, hovered between 30% to 50%.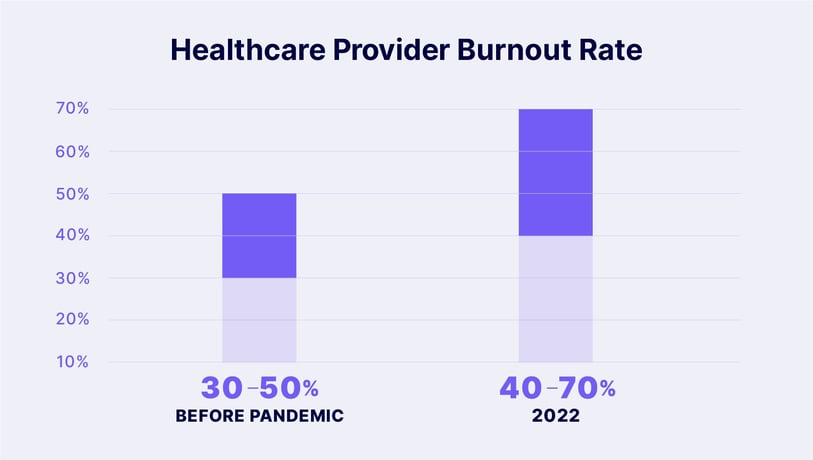 However, since the global pandemic was declared by the World Health Organization in 2020, the rates have spiked from 40% to 70%, according to a report by Health Leaders. Even more alarming: 94% of nurses are currently experiencing symptoms of burnout, according to the Canadian Federation of Nurses Unions. Approximately 53% of Canadian physicians are experiencing burnout, with 46% of them considering cutting back on their clinical workloads. There has also been an increase in physicians having suicidal tendencies.
Health systems across the board have been overwhelmingly stretched beyond their limits. Long work hours, reduced vacation time, and changes to care delivery have taken their toll on the mental and well-being of most healthcare providers. In turn, this has impacted providers' ability to care for patients.
2. Healthcare providers' burnout turned into labor shortage
More and more healthcare providers are quitting their jobs due to mental and physical health
Statistics in Canada alone shed stunning light on how many healthcare providers, such as nurses, doctors, and pharmacists, for example, are considering leaving their jobs. Statistics Canada indicates that job stress or burnout is the most common reason why healthcare providers who are not intending to retire are seriously thinking about quitting their jobs or changing careers altogether."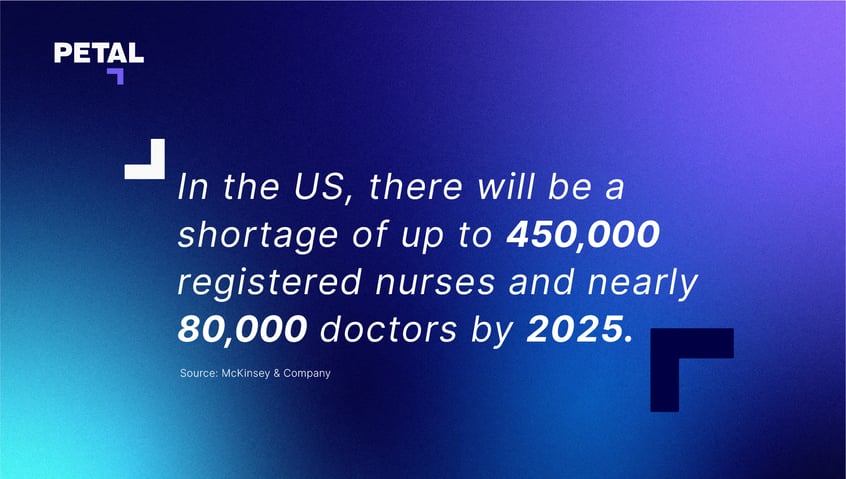 The crippling effects of the healthcare labor shortage pre-pandemic have simply been exacerbated by COVID-19. A recent CTV news report indicated that based on Statistics Canada, job vacancies in healthcare doubled from the levels observed over two years ago. Research firm McKinsey & Company estimates that in the US, there will be a shortage of up to 450,000 registered nurses and nearly 80,000 doctors by 2025. Canada is likely to fare no better.
3. The cost of Healthcare providers' burnout
The financial costs of the healthcare sector on perpetual "burnout" are surging, especially when compounded by inflation. Harvard Business School published an analysis in 2019 of the cost of physician burnout in the US: $4.6 billion a year. In 2014, albeit several years ago, researchers showed that in Canada, the total cost was over $200 million. That number inevitably must have increased since then if we rely on recent surveys by the Medical Group Management Association."
The labour shortage is also generating rising labour expenditures and forcing Canadians to shift to private care locally or resort to medical tourism.
However, the costs to healthcare systems and society as a whole are equally damaging. Experts point to longer wait times as well as ineffective and prolonged patient outcomes as just some of the ripple effects. Enrollment for healthcare programs are lackluster at best. A case in point? The CBC reported that students in med school are shying away from becoming family physicians in part because of the "endless stream of anecdotes about doctor burnout.
Healthcare providers struggling with mental health issues are also on a dangerous trajectory for chronic disease. In an interview with Health Leaders, Bernadette Melnyk, PhD, RN, APRN-CNP, is chief wellness officer of The Ohio State University and dean of the university's College of Nursing said:
"In my latest study with travel nurses, not only did they report high rates of burnout and depression, but the pandemic also impacted their lifestyle behaviors. People have attempted to cope in unhealthy ways. We have seen increases in alcohol use. We have seen increases in unhealthy eating. We have seen declines in physical activity. Downstream, that is going to lead to higher rates of chronic disease, and we must be prepared for that."
Are there any solutions to the healthcare burnout crisis?
Digital transformation: the solution to healthcare providers' burnout
Can technology play a role in mitigating healthcare providers' burnout?
If there is one positive outcome of the pandemic, it is that healthcare organizations have accelerated their digital transformations. Digital technologies enable healthcare providers to improve patient access and outcomes. And it is also helping to support hospitals, clinics, pharmacies and other entities in the healthcare systems to address emergencies in staffing, which can contribute to alleviating stress levels and staving off burnout.
How? With advanced analytics-powered scheduling platforms, health delivery organizations can more efficiently and effectively plan each month around available resources, vacation time, leaves of absence, etc.
According to Gartner, The COVID-19 pandemic exacerbated existing healthcare workforce challenges, including widespread clinician burnout and global workforce shortages. These challenges are expected to persist, with an estimated global shortage of 10 million healthcare workers by 2030.
Technology is revolutionizing the healthcare industry and helping it to become more efficient. Advanced analytics are being used to aid in scheduling providers, making the process of managing care capacity easier than ever before. Healthcare technology provides a range of advantages, such as scheduling accuracy, reduced administrative burden, and cost savings.
Analytics can be used to better understand provider preferences. This can minimize administrative workload, reduce frustration and dissatisfaction, and increase overall satisfaction with the healthcare system. As a result, healthcare organizations are able to offer better services and improve workforce well-being.
Overall, healthcare technology is changing the way providers work and helping to make healthcare more efficient, accurate, and cost-effective. By implementing healthcare technology and using advanced analytics, providers are able to better boost organizational efficiency. As a result, healthcare organizations are able to provide better services and improved patient outcomes.
The American Society of Anesthesiologists recently spoke to one department that implemented scheduling software, and the results were impressive:
"A staff-created schedule took 60 hours to 75 hours per month to build. The system generates the schedule over a 14-hour period and essentially generates an unlimited number of combinations to deliver the best schedule option for the department," said Dr. Dhruv Choudhry, M.D., an anesthesiology resident at Ochsner Health in New Orleans. Moreover, physician engagement scores went up significantly.
So how does agile and accelerated scheduling improve the mental health and well-being of healthcare providers?
A study by Accenture showed that by making workers Net Better off, they could feel better across the six dimensions of the Net Better Off framework: emotional and mental well-being, relational ties, physical health, financial health, feeling more purposeful and enjoying the opportunities of being perceived as employable.
Digital enablement should be able to enhance healthcare providers' six dimensions. Take work flexibility and how it relates to work-related well-being. If healthcare providers felt as though they had more control over their schedules, such as being able to actually take time off or work different shifts, they are more likely to be less stressed and happier at work.
One research paper showed that changing a healthcare provider's schedule to better suit their needs could decrease job stress by 20% and increase job satisfaction by 62%.
Another Accenture report echoes the benefits of improved scheduling for workers. The report states that flexible work arrangements, powered by technology, can dramatically increase Net Better Off scores. Net Better Off scores beget improved well-being and a decrease in the likelihood of worker burnout.
Case study: University of Montreal Health Centre's inspiring results using Petal scheduling solution
At the 2022 conference of the Association des pharmaciens des établissements de santé du Québec (APES), the University of Montreal Health Centre (CHUM), one of the largest hospitals in Canada, revealed the results of switching from manual spreadsheets to Petal's advanced analytics-powered scheduling platform for the healthcare sector. The CHUM's hospital pharmacist department, which annually manages 21,000 worker assignments, was the first to make the change. à
Between 2019 and 2020, when the department still used spreadsheets, it would take a total of 574.5 hours for employee scheduling and verifying payroll. Once Petal was implemented, that number decreased by 42% in 2021 to 290 hours and another 28% in 2022 (YTD). For the project's main stakeholders, satisfaction rates among users and staff were exceptionally high, with a satisfaction rate of 91.5%.
In conclusion, prioritizing the mental health and well-being of healthcare providers must be a top concern for organizations as well as society as a whole. It is an absolute imperative for everyone to contribute to care for those who care for us. Technology may not be the panacea for eliminating burnout; nevertheless, it can become a vital tool to ease stress and elevate healthcare providers' well-being.
If you are looking to provide better schedules for your healthcare providers and increase their well-being, the Petal Scheduling Solution is a good start.
Mireille Luc, PhD
Tracey-Lee Batsford, Patient partner