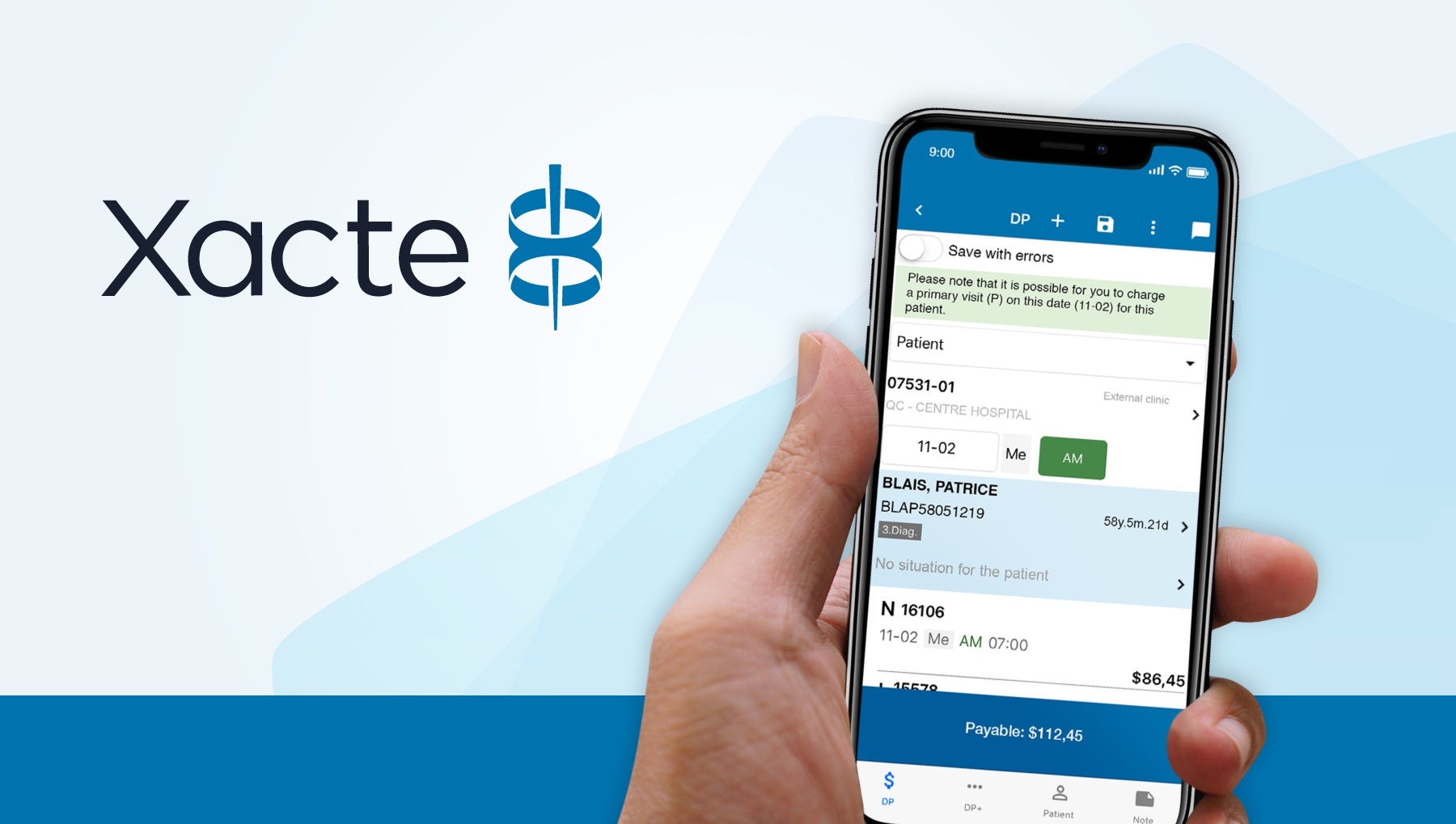 A few months have already passed since PetalMD acquired Xacte, the Medical Billing Solution. Xacte brings real technological innovation to medical billing and is already used daily by close to 4,500 physicians and 400 optometrists throughout Quebec.
Eliminate Errors and Payment Refusals
Although Xacte's ease of use has greatly contributed to its reputation in the medical field, it is the results that the tool garners that explain its growing popularity among physicians.
The hype surrounding Xacte is not a coincidence: Xacte has been designed to prevent errors and wasted time related to the correction of invoices. As you enter your data the software validates in real time: the Health Insurance Number (NAM), billing codes, delays between exams and a host of other details, to eliminate the refusal of a payment. Once your billing requests are entered, a team of experts ensures the validity, compliance and optimization of your data according to your medical practice and your reality.
Having become the standard for accuracy in the field of medical billing in Quebec, the Xacte solution is available in both Web and mobile versions (iOS and Android).
NEW - Connect Your PetalMD Calendar to Your Medical Billing Tool
For the thousands of doctors who already use our scheduling solution, you will be pleased to learn that it is now possible to connect your PetalMD calendar directly to Xacte. For example, on-call tasks and scheduled meetings can automatically be synchronized with Xacte's billing grid. The billing code and the corresponding amount can be billed in one click. This avoids errors of omission and removes the task of manual transcription.


For Medical Clinics, FMG and U-FMG
The Xacte billing solution can be integrated with several different types of electronic health records (EMR) in Quebec, including: Omnimed, KinLogix, Medesync and EyeVu. Thanks to these integrations, when doctors in a clinic create a payment claim, certain data is automatically entered into the form. This saves a considerable amount of time and also eliminates the risk of errors.
In addition, Xacte offers medical clinics a free patient registration module for the RAMQ, which integrates with the vast majority of EMRs. Easy to use, this module offers healthcare professionals, who bill the RAMQ, more features than the basic service.
Request a Free Demo
Discover the Xacte medical billing solution via a completely free demo. Plus, with the Total Satisfaction Guaranty you can confidently test Xacte and we'll guaranty you a full refund if you're not 100% satisfied within the first 60 days of joining.