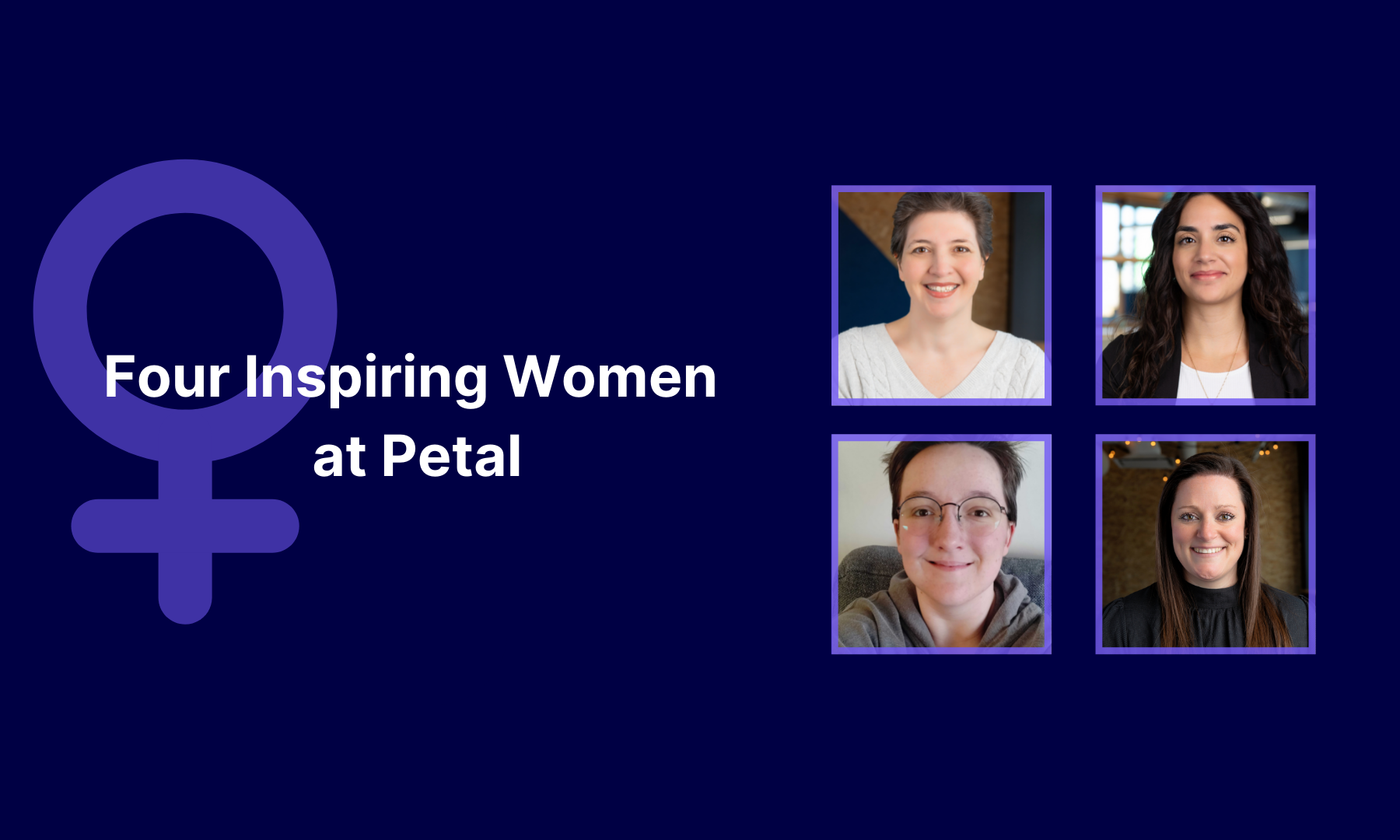 When we think of the tech field, we often think of a predominantly male environment. However, things are changing! Today, many women are making significant contributions and actively participating in the evolution of the field. We are very proud that 46% of Petal's team is composed of people who identify as female. Discover the journey of four of them!
Name: Marie-Claude Pelbois
Position: Account Manager
"I am a true team player. I love being able to share my knowledge with my colleagues and learn more every day."
Marie-Claude is one of the longest-serving employees at Petal. After more than 8 years on the job, she is a true source of information for her colleagues. Passionate about the world, Marie-Claude worked for a long time in the hotel industry and in customer service. In fact, this is what she likes most about her job: listening to customers and finding solutions to their problems. She even defines herself as a translator between customer needs and technological development. In her free time, Marie-Claude spends time with her daughter and bakes 3D cakes, each one more impressive than the last.
Name: Caroline Tasso
Position: Talent Acquisition Partner
"I'm a woman of action, I like to move fast and feel like I'm making a difference."
An adventurer at heart, Caroline has been working at Petal for a year. She is the one who hired most of our new recruits in the last year! Prior to her arrival at Petal, Caroline worked in several professions: brand ambassador, account manager, and even flight attendant. This job allowed her to live her passion for travel to the fullest. In her spare time, Caroline enjoys playing sports, reading psychology articles, and listening to podcasts. This is what makes her so great, she is a versatile and curious person!
Name: Sabrina Ricard
Position: Project Office Manager
"I believe that health technology is the future and I am proud to contribute to it.''
With a Bachelor's degree in Medical Biology and an MBA in Pharmaceutical and Healthcare Network Management, Sabrina has been working at Petal for just over a year. She oversees all operations of our large-scale projects. Motivated by her first boss after college, who taught her that women had a place in the tech world, Sabrina has worked her way into the digital health industry. Passionate about travel and discovery, she is not afraid to try new things in her daily life: restaurants, activities, cultures, everything is to be discovered!
Name: Laurie Laberge
Position: Mobile Developer
"If you want to, you can. That's what I learned when I joined the IT industry.''
Laurie has been a mobile developer at Petal for a year. She solves problems, develops new features, and runs tests every day to make sure our mobile applications are at their best. For her, mobile development is like learning a new language. In fact, that's one of the reasons why she decided to work in IT: to learn a new language. In her free time, she learns German, hikes in the forest, does photography, and solves puzzles. Her curiosity makes her a brilliant developer!
You are a woman and want to discover the IT field? Do you already work in the tech industry and are looking for new challenges? Check out our careers page!