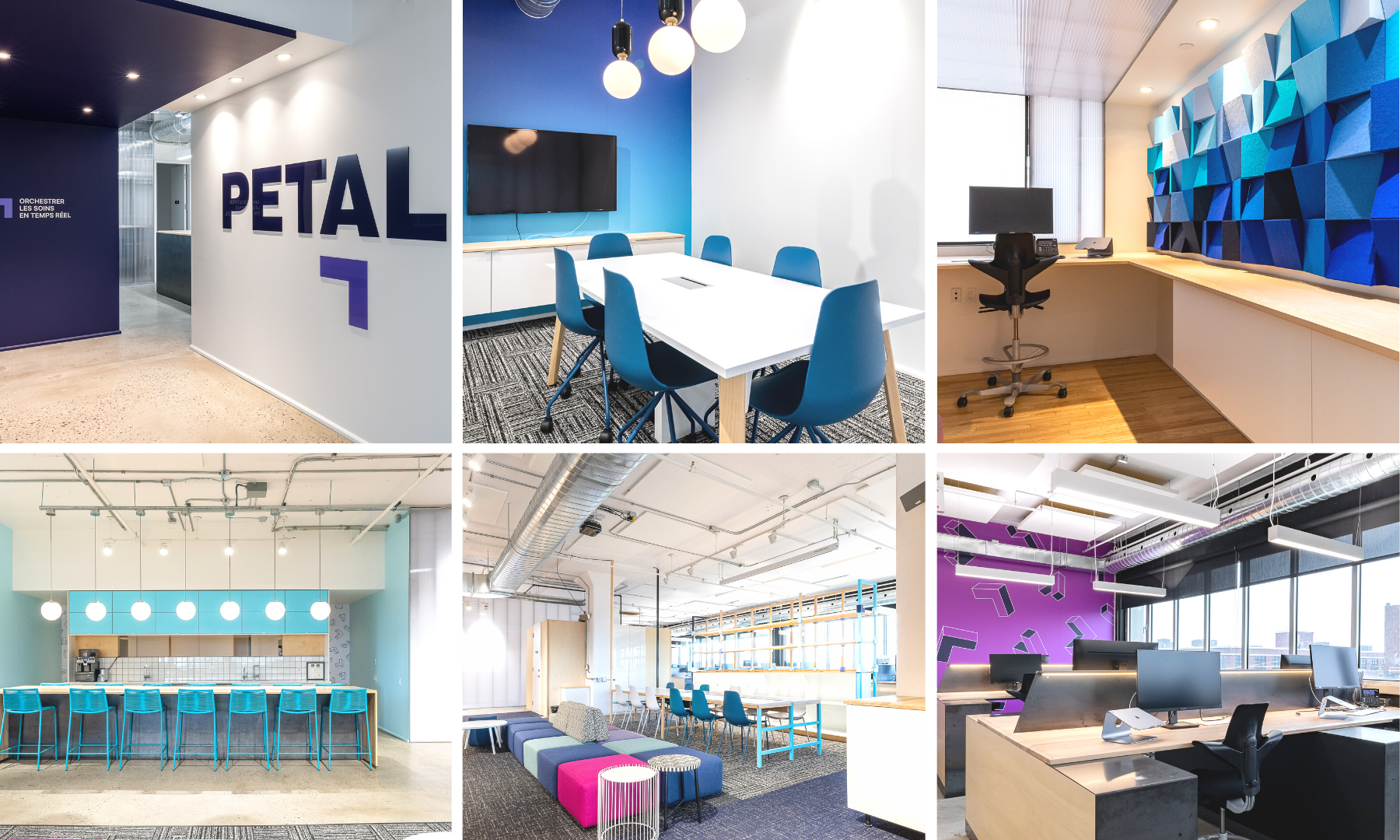 Petal inaugurated its new offices in Montreal this October. Approximately 100 employees will benefit from these new facilities. With over 7,000 square feet, our new workspaces will allow our team to comfortably meet and collaborate on a daily basis.
Growth at top speed
New clients, new mandates, new products: Petal is constantly renewing and growing. With the arrival of remote work, we have broadened our recruitment horizons. Many of our new colleagues live in the greater Montreal area, hence the need for a physical space where they can work. Even though we already had a small office in Montreal, we needed a space that reflected our image and would better suit our growing needs.
A vibrant neighborhood like Petal
Petal is a young, dynamic, and vibrant company. Since our head office is located in Saint-Roch in Quebec City, we felt it was essential to set up our new offices in an equally trendy neighborhood. After visiting several potential locations, we chose 5455 avenue de Gaspé. Our offices are in the heart of the Mile-End, easily accessible by public transportation and close to Montreal's social life. There is a fresh atmosphere of innovation and technology in the companies of the area. Within the building, there are dozens of technology companies. From Ubisoft to Framestore, the organizations that share the building are among the best in their field and each one is more innovative than the last. That was exactly the kind of environment we wanted.
New offices: the end of remote work?
A company can't call itself modern if it doesn't include remote work as part of its working conditions, to the extent that it can do so without affecting its operations. Employees have unlimited access to the office, but they also have the option of working remotely for as many days as they wish, depending on the nature of their job of course. As much as we love working remotely, there's no substitute for human warmth, lunch with colleagues, or a chat by the coffee machine. It is for this exact reason that we designed our offices to encourage contact and allow our employees to bond.
Innovative design by Patriarche
Patriarche, our architectural firm of choice, designed our offices. Always of quality, the work carried out by Patriarch represents our organization and our culture. We were looking to replicate the youthful and dynamic look of the Quebec City offices in Montreal and Patriarche met the challenge head-on. Although they exude the same energy, unlike the head office in Quebec City, the Montreal offices do not feature pastel colors. Instead, these spaces reflect our new branding. Purple, blue, gray, and magenta are featured in both the furniture and paint. Patriarche also designed punchy murals, inspired by our graphic identity. Including a large open area, and a few enclosed pods, the offices were designed with collaboration and comfort in mind. Our teams can gather here for meetings, teamwork, and hopefully someday soon social events.
Our employees have been enjoying the space for a few weeks now and everyone seems delighted. The pleasure of meeting up with colleagues in-person, combined with the functional and comfortable offices, make our daily lives brighter.