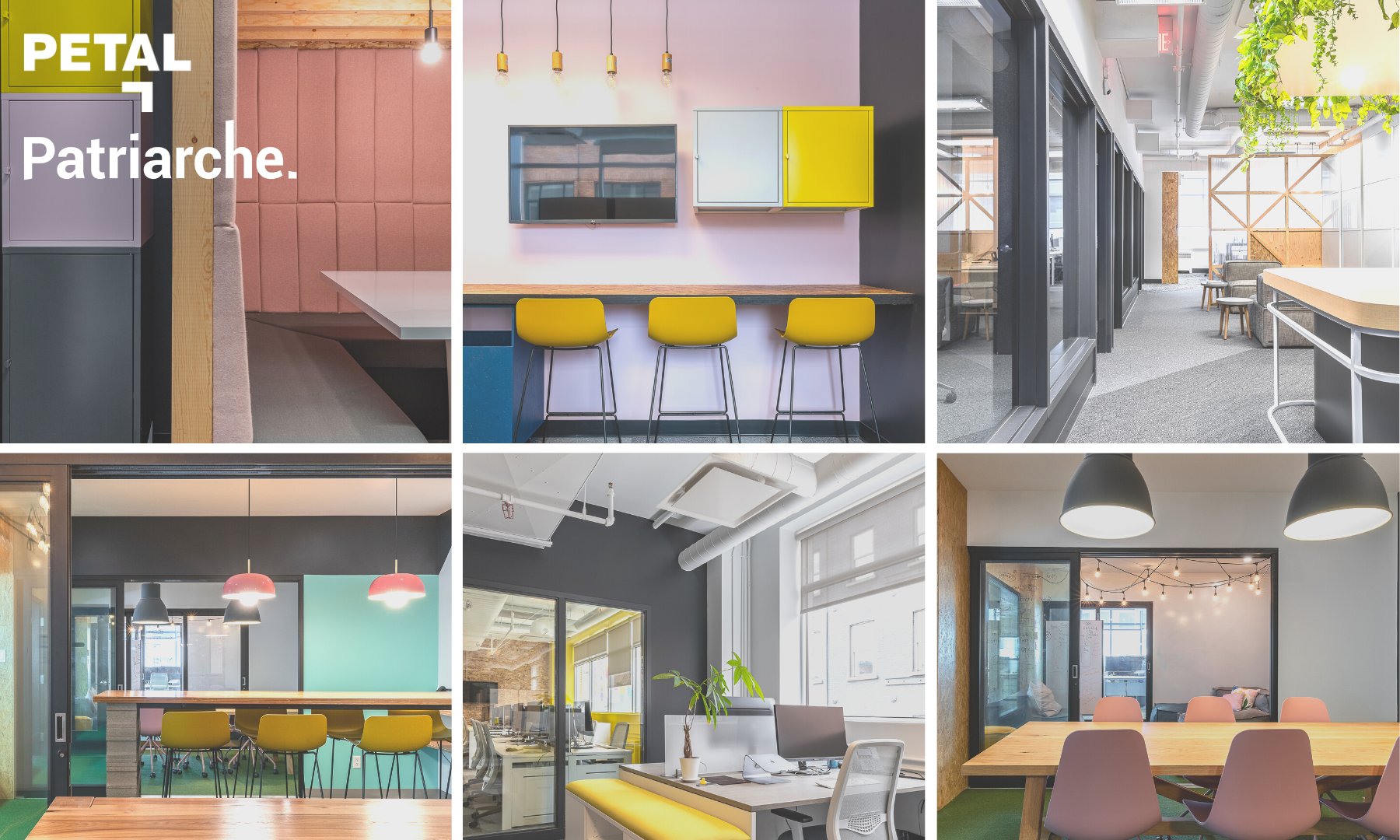 Bright, colorful, stimulating, and collaborative; this is how we would describe the new offices at Petal's headquarters in Quebec City.
In the summer of 2020, the Petal management team felt the need to upgrade their offices. Even if they were already functioning well, the company's rapid growth and the arrival of the hybrid way of remote working required a reorganization of the spaces.
Whether it's through business activities or in the day-to-day atmosphere, the culture at Petal is strong and very present. The offices needed to reflect the company's personality. Therefore, Petal turned to Patriarche, a firm specializing in architecture and design, to refresh the premises.
A collaborative project
Putting collaboration at the center of their process, the Petal and Patriarche teams worked together to deliver a project that lived up to expectations. "Patriarche listened to our needs from the beginning and proposed interesting and original solutions that reflected our image," explains Corina Chartrand, Vice-President of Human Resources.
Through the choice of materials, the design of custom-made elements, the search for furniture, and the development of personalized signage, Patriarche developed a dynamic layout with personality.
A wealth of new features
Meeting the growing needs of the organization required that some rooms be redesigned; some closed offices were converted into collaborative spaces, and unassigned offices were added to provide greater flexibility. Meeting rooms, acoustic booths, a lounge area, connected workspaces: a host of facilities enable people to live in the space, whether permanently or temporarily, either alone or in groups.
The light fixtures have been changed, along with the furniture and flooring. Whiteboards have also been integrated into various places to facilitate discussions and stimulate creativity.
A flexible office
A company cannot claim to be modern, innovative, and have the well-being of its team at heart without trying to integrate remote work into its practices. Post-pandemic, Petal has chosen to continue working in a hybrid model. Depending on the nature of their role, employees will be able to continue to work remotely for maximum flexibility, which is why most workspaces are unassigned. Employees can choose where they want to work based on the tasks they need to accomplish and their desired atmosphere.
The varied furnishings allows employees to work sitting, standing, or in a more relaxed mode. In addition, lockers were added so that employees who do not have a dedicated workspace can leave their personal belongings.
A colorful atmosphere
The main objective of this redesign was to make the offices reflect the new company reality: an organization in hypergrowth that never ceases to innovate. Colors were one of the distinctive elements of the project. Cynthia Roy, a designer at Patriache, confirms: "It was a project that was far from conventional. It was a pleasure for us to collaborate with a client who has a strong desire to innovate and who has the well-being of their employees at heart. The Petal team strived to provide an enjoyable experience for their employees in the office. As a result, the office stands out for its bold, colorful and eclectic feel.