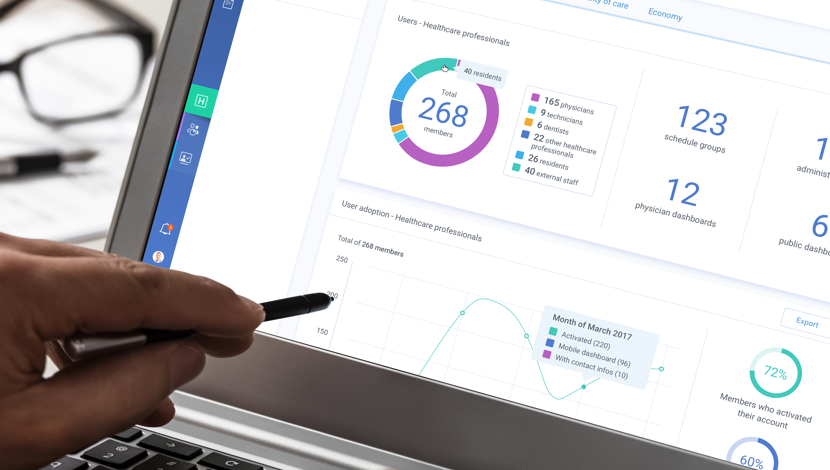 Healthcare managers are under a lot of pressure to improve hospital performance, and they sometimes have a hard time finding the right way to do it. This difficulty comes partly from the fact that the concept of "hospital performance" cannot be evaluated solely in terms of financial criteria.

In order to evaluate hospital performance, many factors must be taken into account: emergency room waiting times, the number of patients treated, training of medical staff, quality of care offered, accessibility to services, equipment, available rooms, etc.


Emergency Care Patients Waiting Over 4 hours (2016)
Source : How Canada Compares: Results From The Commonwealth Fund's 2016 International Health Policy Survey of Adults in 11 Countries
While it is indeed difficult to quantify the overall performance of a hospital, there are ways to improve the efficiency of specific processes, such as medical appointment bookings or communications between physicians.
Since hospitals have limited financial resources and since wages represent about 60% of their expenses, the best course of action is to improve the efficiency of each individual. Not by overloading them with additional work, which would create even more performance issues, but by streamlining their existing workload.
After nearly 10 years of collaborating with physicians and healthcare facility managers, PetalMD shares the solutions they have found to help hospitals improve their performance.
Ensure Optimal Distribution of Physician Shifts
Physician time is precious. An average "salary" for a Canadian physician is $307,000 of which there are 72,000 in the Canadian healthcare network, and this figure is growing much faster than for most jobs. But beyond the financial point of view, physicians' expertise is the foundation of most hospital services. We could even say that it is the foundation of the entire health system. Therefore, hospitals that want to improve healthcare services, while respecting their budgets, must start by making sure that doctors' schedules are optimized.
There is no question here of simply making physicians "work more", because this could have an impact on the number of medical errors that occur, which would impact the well-being of patients and doctors alike. A better idea is to improve the management and distribution of work shifts.
What is the proportion of staff payroll
to total hospital expenses?
Sources : France data , Canada data.
Optimal distribution of physician shifts can be achieved through Web solutions that use specialized algorithms. These algorithms themselves are based on rules that take into account a multitude of complex factors, such as availability and vacation time for each physician, on-call coverage, personal preferences, subspecialties, equity in distribution, research requirements, etc.
Although doctors' schedules are extremely complex to create and manage, there is virtually no case that cannot be addressed by a specialized solution. By ensuring the best possible distribution of tasks performed by physicians, the hospital can offer better coverage, thus facilitating access to health care.
This case study contains:

Testimonials from experienced ER schedulers

Benefits for physicians of the emergency department


Simplify Communications with On-call Physicians
According to a study conducted by the University of Toronto, 1 in 7 'pager' alerts are sent to the wrong on-call physician. In addition, a study by the Spyglass Consulting Group found that 53% of nurses find it difficult to identify which on-call physician is actually available. If we cross reference this data with the results of a survey conducted by Physician Wellness Services, which reveals that nearly a third of physicians say they are stressed by on-call scheduling issues; we simply cannot deny that the quality of communications with on-call physicians directly affects hospital performance.
To reduce communication errors and unnecessary round trips that affect the day-to-day effectiveness of administrative staff and physicians; it is important to centralize on-call availabilities and make sure this information is always up to date. The best way to do this is by having a single, up-to-date, real time on-call list accessible from staff mobile devices. With an advanced Web solution, the on-call list can even be synchronized in real time with the physician schedules of each department.
In addition to improving the coordination of care, a list that centralize the schedules of all departments and which are updated automatically, frees up the staff responsible for communicating and updating these day-to-day schedules.
Automate Tasks Related to Patient Appointment Management
It is by automating repetitive tasks that were previously performed manually that organizations improve their performance the most. In the healthcare sector, a typical example of one of these tasks is patient appointment booking by phone with a real person, a process that is gradually giving way to online appointment booking.
According to a study conducted by Canada Health Infoway, the average time it takes to make an appointment over the phone is 2.7 minutes. For a hospital that processes 100,000 phone appointments annually, this represents approximately 4,500 hours per year. And if we add to this figure the time required to provide appointment reminders, approximately 1.5 minutes, then the amount of time spent in appointment related tasks increases substantially. Thus making this a prime target and good place to start when looking to improve efficiencies.
2,7 minutes
The average time required to make a single appointment on the phone



90 seconds
The average time required to complete a single appointment reminder on the phone
Limit the Number of Communication Channels
In 2013, a US commission identified hospital communication channels as the source of more than 70% of critical events. Around the same time, a study published in the Journal of Hospital Medicine showed that doctors spend 25% of their working day using communication channels. In other words, the quantity and quality of your communication tools play a major role in the effectiveness of hospital staff, including physicians.
To reduce time loss, hospital managers should simplify communication processes by reducing the number of tools used. The more tools there are, the more steps involved in the communication process, which means greater risk of error and wasted time.


Process With Multiple Communication Channels

Process With a Centralized Tool

Hence, hospitals should equip themselves with tools that allow for multiple communication processes at once and that updates information automatically. A good way to save money while facilitating change management is to choose a solution that is accessible from any mobile devices. That way, staff can access the info wherever they are and the hospital does not have to buy additional equipment.
Take Advantage of Big Data
How should a manager distribute available staff (supply) to respond as efficiently as possible to patients (demand)? This classic supply and demand management problem takes on particular importance in the healthcare sector, where insufficient staffing can have a major impact on patient health ; it is therefore imperative to always have enough staff on duty.
On the other hand, when too many people are working during less busy periods, those same people may be unavailable or exhausted during high traffic periods. This imbalance in distribution may reduce efficiency in health care, which is important for hospital performance.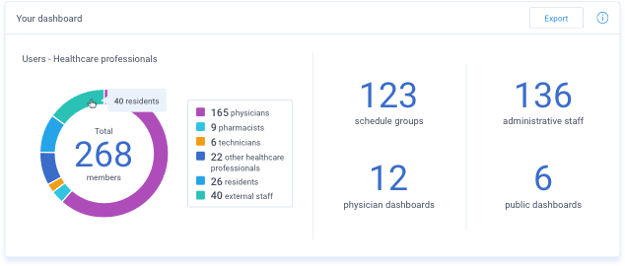 This is where big data comes in. Based on the number of appointments and admissions that have taken place in the past, it is possible to predict traffic over a period of time. Thanks to these forecasts, staff can be more prepare and provide better healthcare services. Obviously, to take advantage of big data, you need a system that collects and centralizes all the hospital information first, then you need access to analytics dashboards and reports.
Secure Hospital Data
A 2015 study found that hospitals are three times more likely to experience data breaches than other industries, and 4.5 times more likely to be targeted by ransomware. These numbers can probably be explained by the sensitive and valuable nature of the data contained in hospital systems.


What is a ransomware?

It's a software that takes personal or confidential data as hostage. The ransomware's owner requests a sum of money by threatening to keep the information or to make it public.


To eliminate the risk of information leakage, hospital staff should have access to a secure messaging platform. That way, each communication is encrypted to make the data unusable for anyone outside the system. Managers should choose a secure messaging tool directly connected to mobile devices, since physicians often use their smart phones to exchange data.
Prosecutions and fines caused by information leaks in the healthcare sector

$

1.44 million - Walgreen (U.S.A.)

$

2 million - Trilium Health Hospital (Canada)

$

4 million - Stanford Hospital & Clinics (

U.S.A.

)

$

4.8 million - NewYork-Presbyterian Hospital (

U.S.A.

)

$

412 million - Rouge Valley Health System (Canada)
Where Should Hospital Managers Start?
Several Web solutions are available to meet the many challenges talked about in this post. Since each hospital has a reality of its own, the best thing to do is to communicate with an expert who is familiar with the different variations that exist within the hospital environment. If you would like more information on the technological solutions mentioned in this article, do not hesitate to call us at 1 888 949-8601 or write to info@petalmd.com.