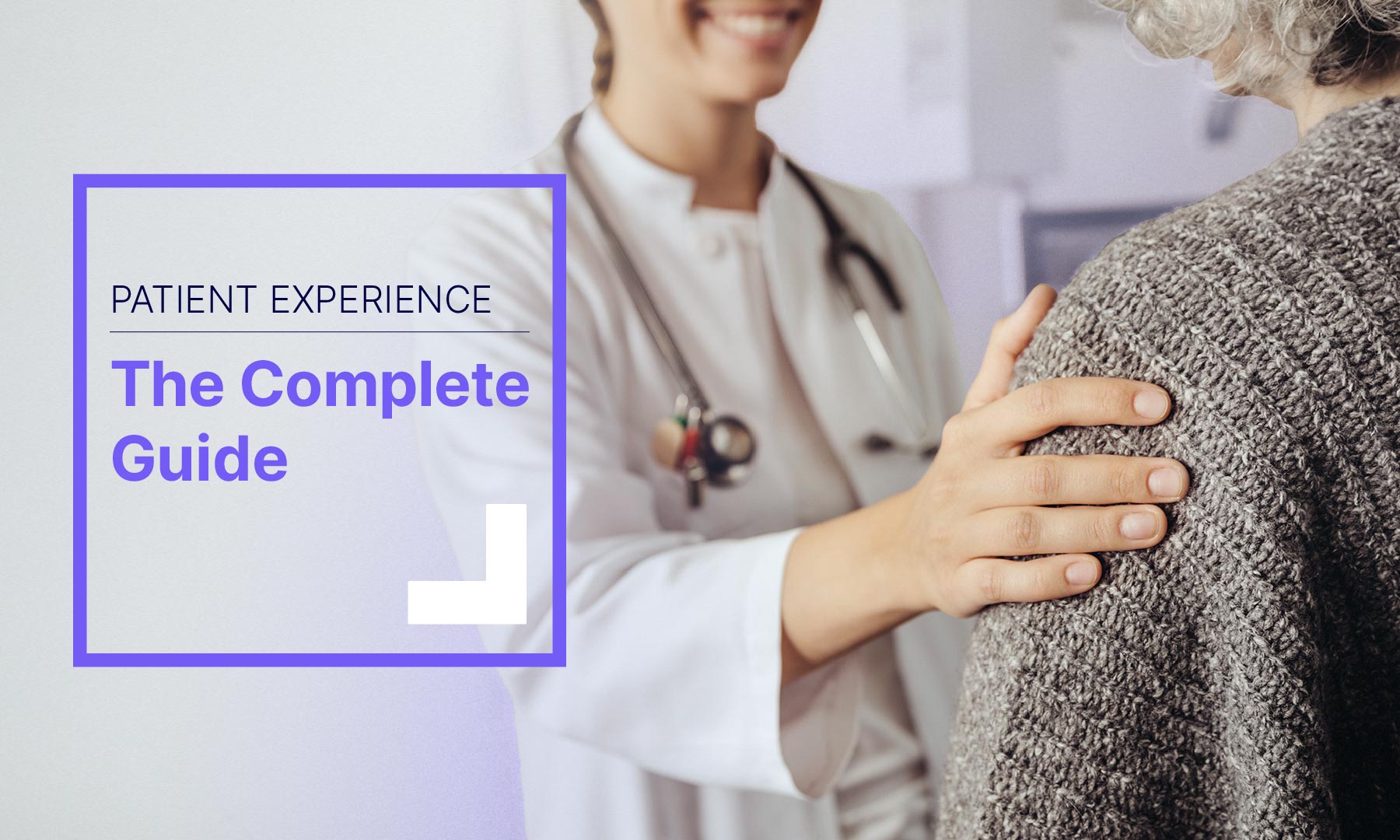 Patient Experience: What It Is, Why It Matters, and How to Improve It
Providing great healthcare is about much more than the management functions and day-to-day processes that keep a department running. There may be excellent systems in place and high standards for patient care — and these are paramount — but the experience that people have accessing services and visiting medical facilities are influenced by factors beyond these.
Creating an exceptional patient experience means breaking out of what's going on behind the scenes and examining what it's like for people to plan, see through, and follow up on their appointments. It's about understanding how patients access services, and what that's like for them. From there, you can work to improve the patient experience your healthcare facility offers.
What Is Patient Experience?
From the moment someone books an appointment to the time they spend at a healthcare facility and any follow-up interactions that result encompass the patient experience.
What's most important to keep in mind is that every person who accesses services will have different needs and preferences. What might make for a good patient experience for one person could create a more challenging experience for another.
For example: If a clinic's hours are Monday to Friday from 9:00 to 5:00, this may be perfect for someone who works evenings and weekends or can easily take time off for medical appointments. But for someone with inflexible work hours that overlap, like a teacher, this may make it difficult to access services.
This is why it's so important that healthcare facilities take patient experience into account as they develop their services. Rather than treating each patient the same way, healthcare providers should have standards and procedures to follow that are responsive enough to meet every patient's needs.
Some Factors That Influence Patient Experience Include:
Booking options: Can patients schedule appointments through your website, by phone, via email, or in-person?
Service accessibility: Is it possible for people to consult a healthcare provider over the phone, by video call, or through text message? For in-person consultations, are there on-site accessibility workers such as sign language interpreters, translators, mental health specialists, or support workers for people with disabilities?
Patient-provider interactions: Do service providers have standardized questions and forms to get to know the background and needs of each patient? Are they trained to effectively address sensitive topics like sexuality and sexual activity, mental health, chronic illness, pregnancy history, unconventional family structures, HIV status, etc.?
Meeting patient preferences:

Can patients request a healthcare provider of the same gender? If they don't have a family doctor, are they able to schedule appointments with the same doctor to create continuity? Do people have the option to choose how they are contacted, when their appointments are booked, and whether their appointment is virtual or in-person?

Follow-up protocol: Are there clear guidelines about what follow-up is the healthcare provider's responsibility, administrative staff's responsibility, and the patient's responsibility? When and how is this made clear to the patient?




The Difference Between Patient Experience and Patient Satisfaction
One way to think of the connection between patient experience and patient satisfaction is that people tend to be satisfied when they've had a positive experience. Of course, what each patient appreciates most in their experience will differ. This is why creating a patient experience that can adapt to different needs, preferences, and expectations is the best way to improve patient satisfaction.
For example…
Some patients might be hesitant to open up about the details of what brought them in. Others may be eager to share in as much detail as possible to be sure their care provider gets the full picture. The best way to meet each of these patients' needs is similar but slightly different.
When all staff members are trained in active listening and asking the right types of questions, they'll be able to meet either type of patient's expectations and get the information they need. They can ask the quieter patient open-ended questions to get them to open up, and ask the more talkative patient direct questions to help them focus on the most important details.
Applying these different communication strategies helps both patients walk away satisfied and feeling heard.
Why Is Patient Experience Important?
Understanding patient experience and working to improve it helps your staff ultimately offer a better quality of care. When the collective mindset at your health care delivery organization shifts to become more patient-centric, it builds trust from those who seek care from your facility and improves patient satisfaction.
Like so many areas of life, the COVID-19 pandemic has shifted the way people look at healthcare, and the expectations they have of providers. Healthcare facilities must continue to adapt to meet these expectations and the needs of their patients to maintain a positive patient experience.
A Glimpse at Patient Wants and Expectations
How to Measure Patient Experience
Soliciting feedback from the people who come to a clinic, or a hospital is the best way to improve offerings, and better meet patient needs. This can be done using a patient feedback form or a patient experience survey. Here's how to build an excellent patient questionnaire.
Qualitative Patient Feedback
Asking open-ended questions leaves room for patients to provide more detailed feedback in their own words, or on topics not covered in predetermined questions. This is how providers can get to understand the unique experiences of different people who access their services.
Qualitative Patient Feedback
Be sure to collect quantitative data, either using sliding scales or multiple-choice questions. The benefit of this is that every person is asked the same question and given the same parameters to answer, making it easier to analyze the data.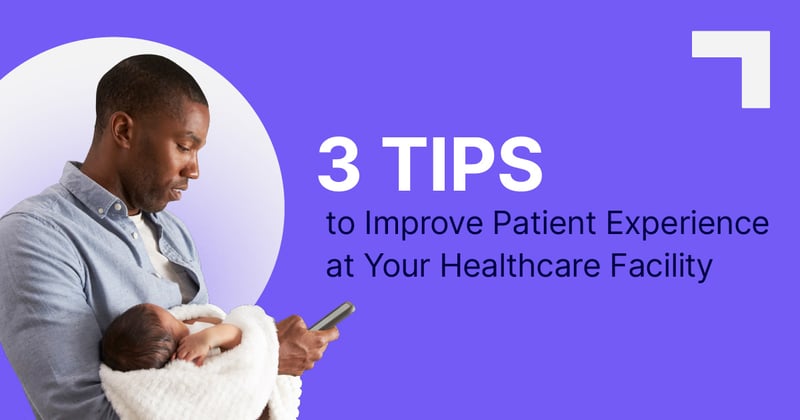 How to Improve Patient Experience at Your Healthcare Facility
To create a great patient experience, there needs to be a sense of fluidity from when someone books their appointment to what actually happens when they arrive and the follow-up they receive afterward. Here are 3 tips to make that happen.
1. Define and Document Procedures
Creating a shared baseline for patient care among your staff leads to a more consistent, positive patient experience. This could take shape as a code of conduct or workforce policy. The most important thing is that it's accessible to all staff, kept up-to-date, and referenced often in staff meetings. It can be provided to all new care providers when they join your organization.
2. Render Every Step More Accessible
From booking appointments to accessing care and following up, every stage of the patient experience should be as accessible as possible. That means having a user-friendly website and online booking service, and options for scheduling appointments via phone, email, and in-person.
Telehealth and other virtual healthcare options also make it easier for every patient to access your services, and reminders by phone, email, or text help ensure people remember their appointments. Where possible, patients should be given the option to schedule follow-up calls or appointments, or request follow-up via email.
3. Train All Staff Cross-Functionally
The better everyone knows all the different roles that contribute to the healthy functioning of your facility, the more holistic the patient experience will be. Staff should be trained cross-functionally to some degree to avoid disconnects in a patient's experience. Host learning seminars and have all new staff members get a run-through of the different departments, how they work, and what their responsibilities are when they join.
The Next Steps in Patient Experience Healthcare
What does the future of patient experience look like? As healthcare continues to evolve and providers move forward with new ways of offering care, the experience patients have will change, too. From more virtual options to adapted physical spaces, there's no doubt that the COVID-19 pandemic will continue to influence healthcare.
Some Changes That Healthcare Facilities Can Anticipate Are:
Virtual connections. Providers can expect to do more of their work through phone and video, and even text or chat. Many of these options were implemented to account for lockdowns and stay-at-home orders, but are expected to remain an option of access into the future.
Leveraging IoT devices. Digital technology that extends care beyond hospital walls, connecting patients with their providers. These devices can track key health status indicators and use smart algorithms for better decision making and collaboration.
Technology-driven administration. From online booking platforms to automated analytics, the healthcare tech industry continues to evolve. This can mean more streamlined processes for providers and a more consistent and friendly patient experience.
Technology-driven experience.

Having technology that enables patients to be empowered and owner of their own medical journeys such as easy access to their own medical records and test results.



Improving Patient Experience Is the Future of Healthcare
If one thing is certain, it's that the future of healthcare is patient-centric. That means turning the focus to the patient experience and rendering all services more responsive and inclusive. Facilities must adapt their offers to meet the various needs, wants, and expectations of patients.
The Petal Platform Provides a Better Experience for Patients Throughout Their Journey
The Petal care orchestration platform connects to various existing clinical systems to provide centralized management of care supply and patient demand. Through this improved visibility, physicians or administrators can adjust their appointment availability optimally to better match patient demand. The platform allows for better coordination between healthcare professionals in the care journey to deliver the right care, in the right way, at the right time.
To learn more about how Petal can enable the stakeholders and your team of healthcare professionals in your organization, contact one of our advisory experts by requesting a demo.
Patient Experience: The Complete Guide
Discover in this guide what the patient experience is, why it is important in healthcare facilities, what it takes to provide more patient-centered care and learn about emerging trends that will improve patient satisfaction.