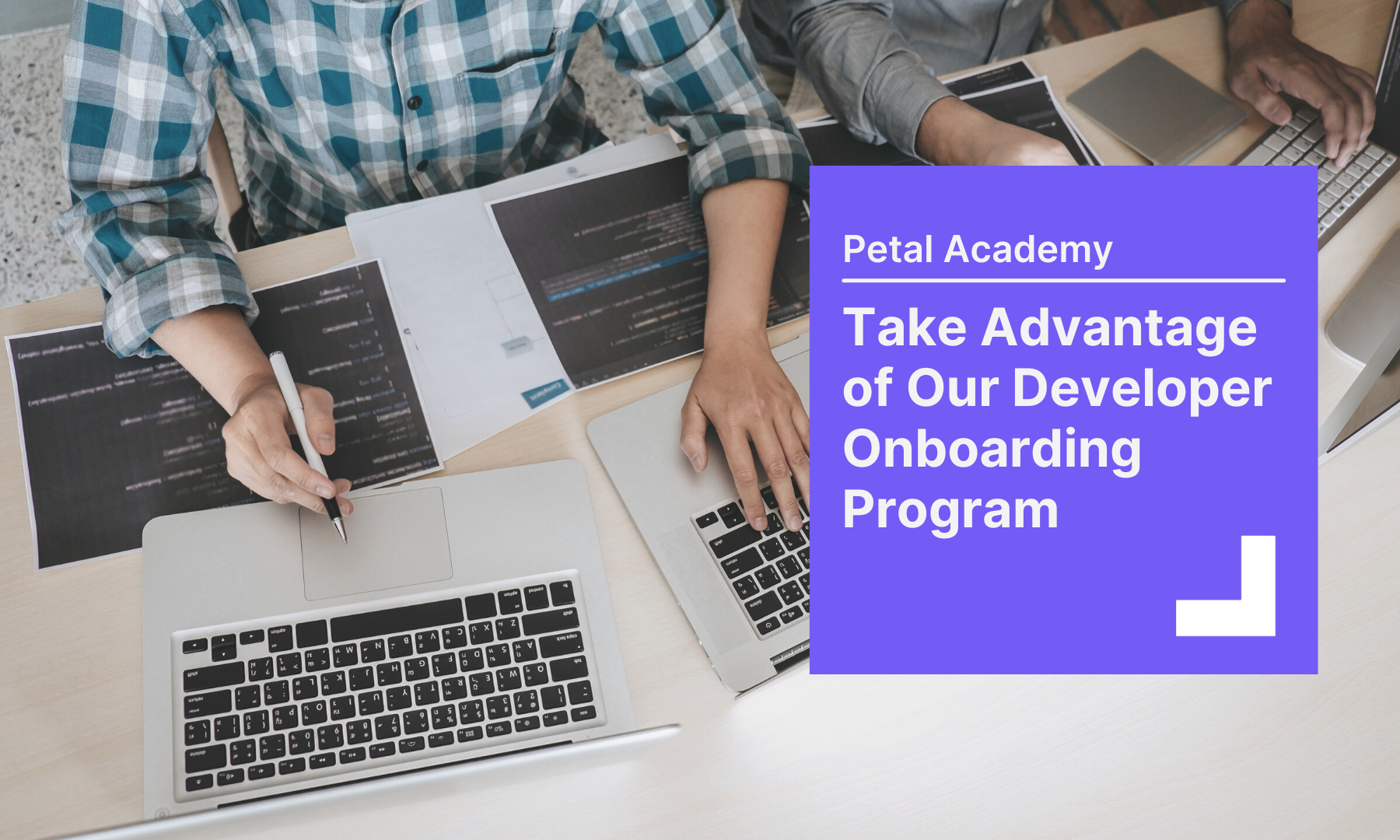 At Petal, we offer you much more than a job. We offer you the opportunity to join a passionate and dynamic team, where every new developer is welcomed and integrated in an exceptional way. Discover the Petal Academy, our initiative dedicated to your success, which will enable you to integrate quickly and efficiently our stimulating work environment.
When You Join Us
From your very first day, you'll be warmly welcomed by experienced members of our team, ready to guide you through your journey at Petal. Our extensive onboarding program has been specially designed to ease your integration by familiarizing you with our corporate culture, our products and your responsibilities within the team. We organize informal get-togethers, team lunches and detailed presentations to ensure your total immersion in our world.
Petal Academy is here to support you at every stage of your career at Petal. You'll be assigned a mentor as soon as you arrive, who will be there to answer all your questions and guide you as you progress. We've also put in place a clear skills matrix, enabling you to plan your career development within the company.
Throughout your career at Petal
We firmly believe in continuous training and learning throughout your career. That's why Petal Academy brings together all the resources you need in one place, in a single platform. You'll have access to comprehensive in-house documentation, making it easier to share knowledge and ensure consistency in our practices. We've also put in place a skills matrix, enabling you to plan your professional development within the company.
You'll also have the opportunity to take part in internal events organized by the Academy throughout the year. Once a quarter, you'll be invited to a Hackathon with all your colleagues, a chance to get together, experiment and innovate. It's the perfect time to network and work on new ideas. You'll also be able to take part in various technology events that Petal is proud to sponsor, such as ConFoo, Semaine numériQC, WAQ and MTL Connecte.
What Your Future Colleagues Think
The benefits of Petal Academy are countless. You'll have easy access to our work ecosystem, with all the information you need to focus on your tasks. You'll be integrated into a supportive team, making it easier for you to adapt and ensuring a smooth transition. You'll also benefit from training tailored to your skills, enabling you to develop to the full.
Feedback from our developers who have taken part in the Petal Academy has been extremely positive. They emphasize the improvement in their integration process and an organized transition within the company.
"The Petal Academy is an invaluable transition between school and the job market. It has enabled me to start my career with confidence and determination." - Leonardo Moreno, Web Development Intern
"Whatever our level of expertise, Petal Academy is a real asset in our integration. The wealth and quality of the resources made available to me as soon as I arrived were invaluable." - Stéphane Lafontaine, Back-End Developer
Thanks to our ongoing support, our developers feel confident and are able to progress rapidly in their careers. They also appreciate the professional development opportunities offered by the Academy, thanks in particular to our skills matrix and our close relationship with managers.
By joining our team, you'll benefit from a personalized approach, ongoing training focused on knowledge sharing, solid documentation and a total commitment to your professional success. Don't wait any longer, join the Petal team and benefit from invaluable support for your professional development. Visit our careers page now for more details.