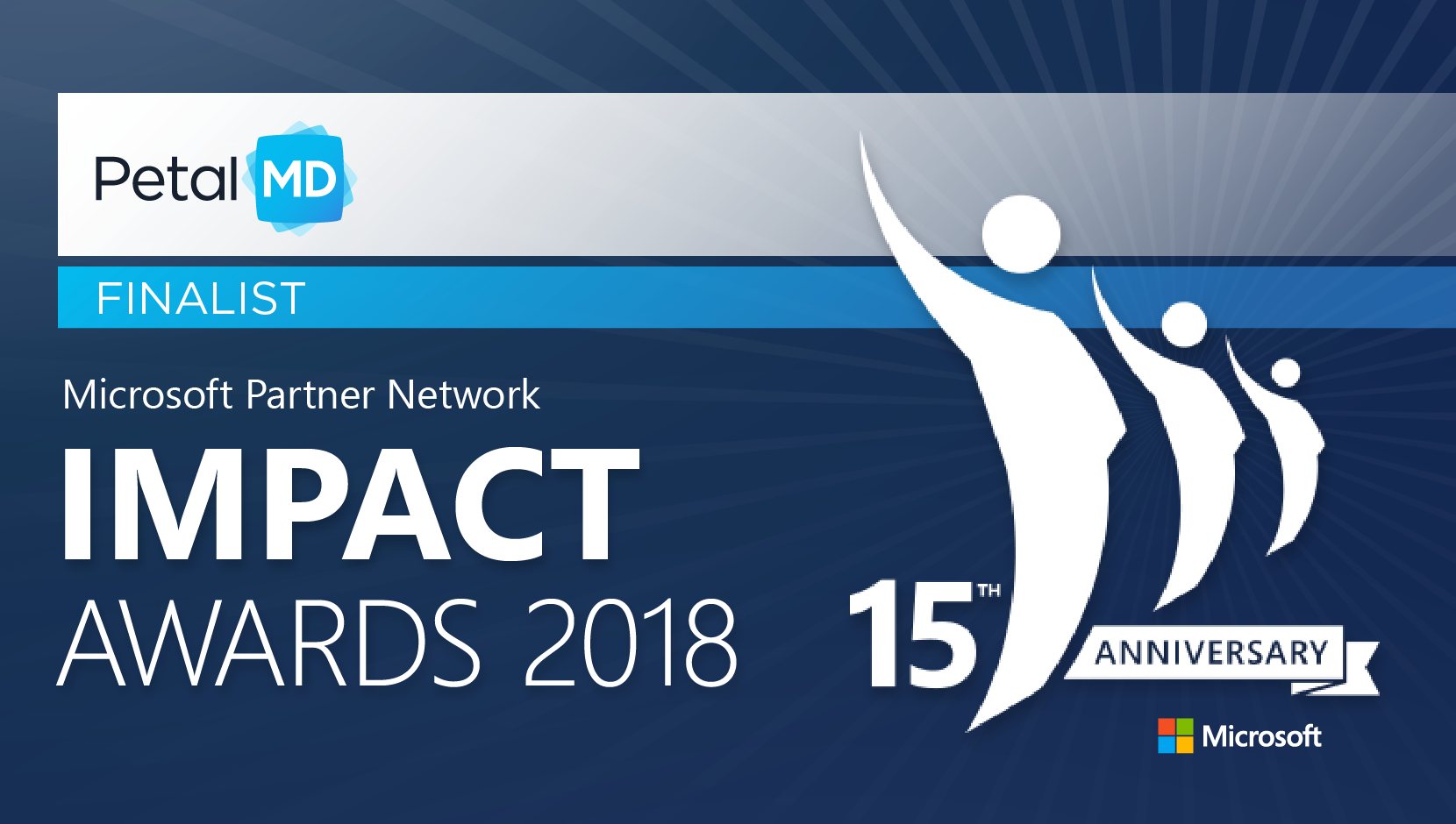 It is a great honor for the PetalMD team to rank among the finalists for the 15th annual Microsoft IMPACT Awards in the category of Industry Innovation Award for Public Sector: Government, Security and Healthcare. The awards ceremony will be held on July 15, 2018 in Las Vegas, Nevada.
Each year, Microsoft celebrates the efforts of its commercial partners in order to promote the development and integration of innovative technologies within its ecosystem. The Microsoft IMPACT Awards showcase the success of Microsoft's commercial partners, who are recognized and evaluated on the basis of prosperous growth and outstanding leadership within their industry.


Industry Innovation Award for Public Sector: Government, Security and Healthcare
Designed in order to put forward its partners' technological development initiatives, this award honors businesses that deploy high quality innovative solutions within their specific market. Increased market share and revenue over the past year are the primary indicators involved in the evaluation and selection process.


PetalMD Distinguished by Microsoft
Through the past year, the PetalMD team has distinguished itself among Microsoft's commercial partners due to its flourishing success in a complex business sector: healthcare. Its vision to leverage innovative technological tools to optimize healthcare system efficiency, has allowed it to differentiate itself from the other contestants.
Through its numerous functionalities propelled by artificial intelligence, the PetalMD web platform improves the efficiency of healthcare professionals and consequently the quality of care delivered. For example, physicians can gain time and autonomy through the use of the automated scheduling module, enabling them to exchange shifts between themselves seamlessly.


This Whitepaper Contains:

Advantages for schedulers and physicians




Time saved using a solution designed for physicians

Key features and benefits



Moreover, medical personnel benefits from a rapid access to on-call doctor lists that are integrated into physicians' schedules, ensuring information updates in real time. In this way, the right specialists can be easily identified and reached through secure messaging module directly on the PetalMD platform.
Medical department or health establishment managers can easily quantify and monitor the services they provide through a data analytics module. They can then use this data to inform their decisions and improve their performance. Integrated with other modules, the analytics module allows medical groups to collect and centralize their data on a single platform, allowing them to visualize this data on various dashboards. Highly valued, these dashboards are a great tool to facilitate optimal resource allocation and support the patients' journey.


Did You Know…?
The PetalMD web platform is hosted on the renown Microsoft Azure cloud servers. Moreover, the PetalMD web platform complies with PIPEDA, the Canadian data security norm, as well as many international norms, such as: ISO 27001, HIPAA, FEDRAMP, SOC 1 and SOC 2.


Microsoft IMPACT Awards 2018 Categories
This year, 15 prizes will be awarded to Microsoft's commercial partners in different categories. Congratulations to all the finalists!