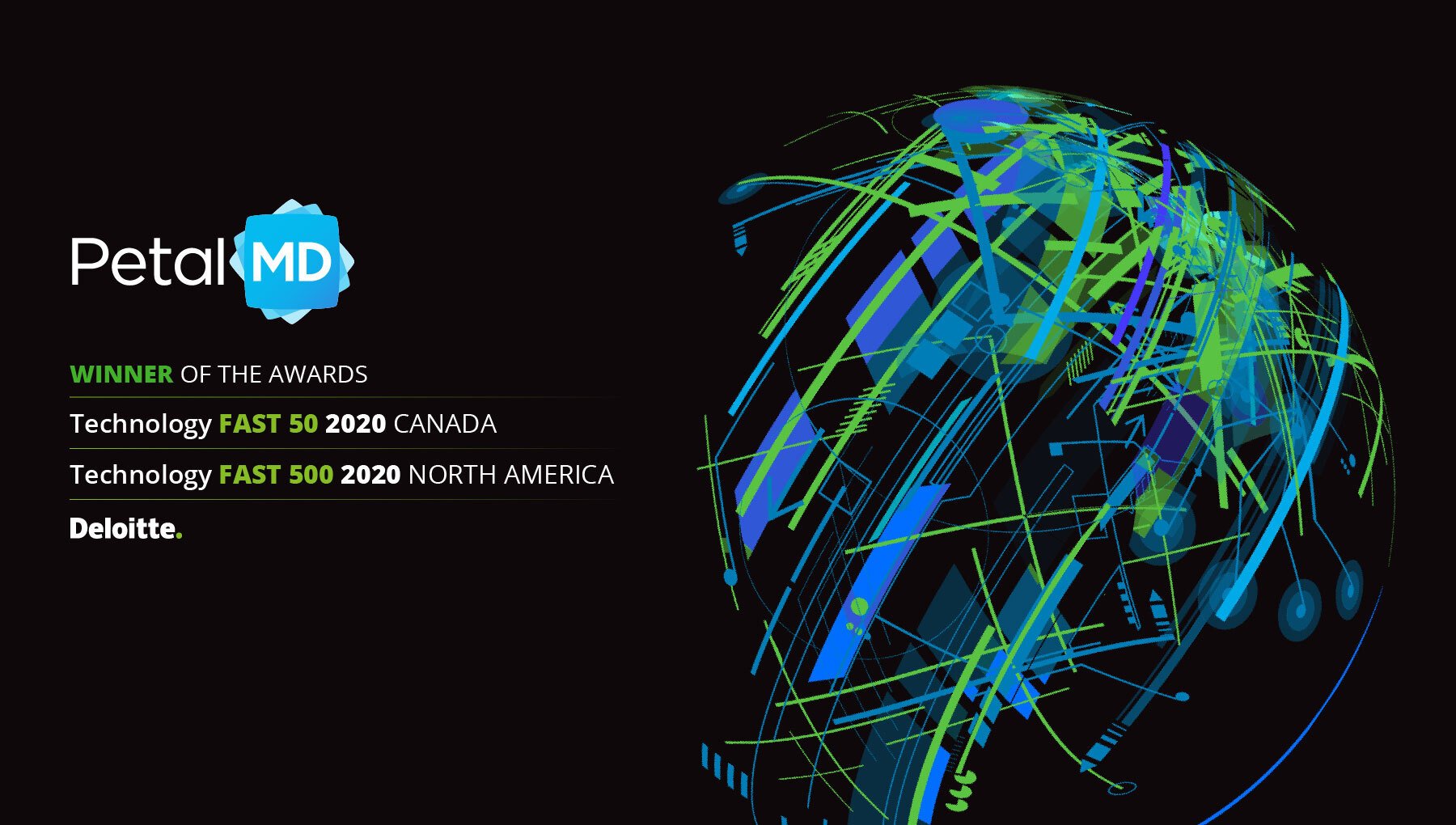 In 2020, PetalMD shined nationally and in North America by entering the ranking of Deloitte's Technology Fast 50 (Canada) and Technology Fast 500 (North America) programs. These awards are given to companies that showed rapid revenue growth, exemplary leadership and a strong engagement toward innovation.
The honors are a great addition to the many recognitions awarded to PetalMD over the past few years which highlight our innovative products, solid growth and the distinctive quality of our workplace.
20th Place in Canada
The Technology Fast 50 award recognizes the top 50 Canadian technology companies that have experienced the fastest growth over the past four years from among more than 43,000 Canadian information and communications technology (ICT) companies. For this, PetalMD ranks 20th with a 874% in revenue growth from 2016 to 2019.
136th Place in North America
Deloitte also generates a ranking for companies in North America, the Technology Fast 500. This ranking highlights the 500 fastest-growing technology, media and telecommunications companies in the United States and Canada. PetalMD is classed at 136th place in this ranking, out of an estimated 550,000 companies in this field in these two countries.
The Jury's 4 Criteria: How PetalMD Stood Out
The jury based its choice on: competitive advantage, market size, growth and attractivity, management and organizational efficiency, as well as financial performance. To qualify, the companies had to:
have their headquarters in Canada,
be in business for at least four years,
generate at least 5 million dollars CAD in revenue,
own the technology, and
invest in research and development.
About Deloitte's Technology Fast 50 and Fast 500 Programs
Deloitte's Technology Fast 50 program celebrates leadership, innovation and excellence within the technology sector of Canada. Deloitte also honors technology companies in North America, through their Technology Fast 500 awards.
The 2020 sponsors for Fast 50 include: Deloitte, RBC, CBRE, Clarity Recruitment and Lafond. For more details, visit the official website of Fast 50.