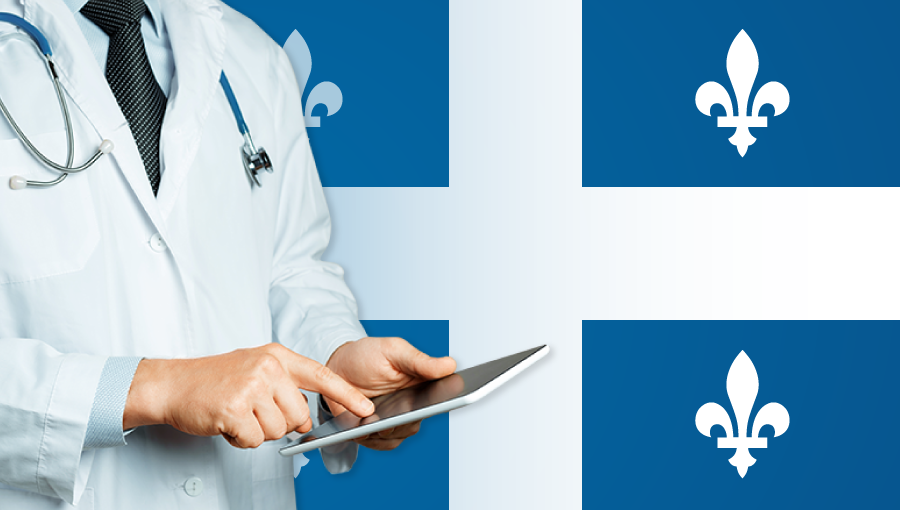 In Quebec, no less than 38% of taxable income is reinvested in the Department of Health and Social Services. To give an idea of what this represents, a household with a median annual income of $60,000 gives about $3,000 to fund the health system each year.
Since Quebec is making healthcare one of its priorities, it is understandable that the taxpayers' share should be high. The problem is that health spending is already growing faster than inflation, and that growth is likely to accelerate over the next decade, particularly as the population ages. What can the digital technologies that we have available do to meet the challenges facing the Quebec health system in the years to come?
Quebec Government Expenditure in Health and Social Services
Since 2013-2014 ($ Billion)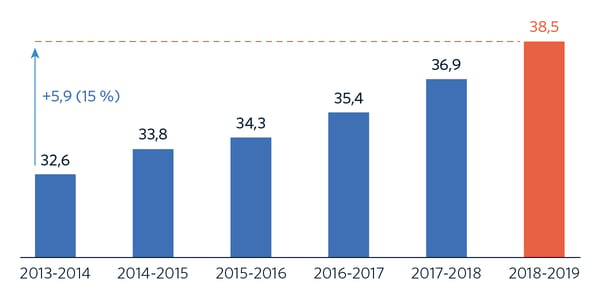 Source : Plan économique du Québec - Santé - Mars 2018 (french)

An Aging Population Will Further Increase Health Spending
The entire baby boom generation is preparing to join the demographic group of people aged 65 and over, that is, those born between 1946 and 1965, who currently represent 27% of the population of Quebec. That means that in 2030, one in four Quebecers will be over 65. Also, according to the Canadian Institute for Health Information, people aged 65 and over account for almost half (46%) of the health expenditures, while currently they account for only 16% of the population.
In light of this evidence, it is becoming increasingly urgent to find ways to optimize the use of existing human and financial resources within the health sector. How can we better equip our institutions and prepare them to meet this major challenge, in order to guarantee access to quality care, while respecting the available budget?
Quebec's Demographic Portrait by Generation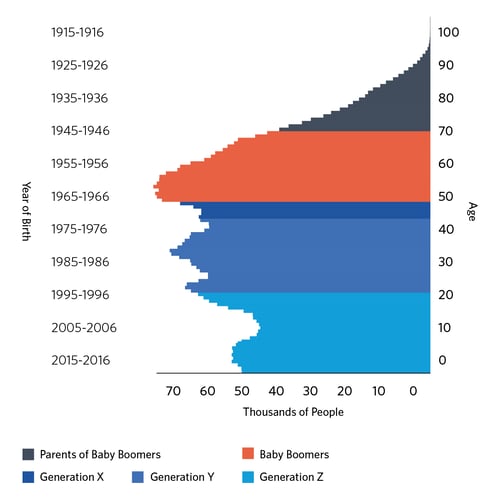 Source : Solidarité et équité intergénérationnelles, Fiche 2 : Les générations qui composent le Québec, 2016 (french)

How Can Digital Technologies Reduce the Operational Costs of Healthcare Facilities?
One of the ways technologies can help reduce operational costs in healthcare is by automating and digitizing many processes that are currently done manually. Considering that the payroll represents on average 60% of hospital expenditures in Canada, it is desirable to reduce, as much as possible, the quantity of administrative tasks that are performed manually. This frees up workers so that they can devote more time to patients.
Among the digital health technologies that have gained popularity over the past decade, online appointment booking is probably one of the best known. Indeed, each appointment made independently by the patient frees up the administrative staff responsible for handling phone calls and recording appointments. This administrative staff is thus more available to welcome patients when they arrive at the clinic and to support the medical staff.
Case Study Produced in Collaboration with a Quebec Medical Clinic

The equivalent of 7,000 hours per month was gained by staff, as 2,600 appointments were made online per month. In addition, some doctors have seen the number of missed appointments halved.

Gain Thousands of Hours by Digitizing Physician Schedules
To reduce operational costs and save time, more and more hospitals in Canada and Europe are choosing to digitize and centralize all physician schedules for the medical services they provide. Using primary data (data from health facilities that use PetalMD solutions) and secondary data (from external reports from Canada Health Infoway, the Organisation for Economic Co-operation and Development (OECD) and Statistics Canada), we can for example determine that a hospital of 1,400 physicians and residents in 93 time groups can save nearly 90,000 hours of work per year by computerizing the management of its schedules. This number includes 9,500 hours gained by physicians, which means more time for patients.

Quebec Technology Companies Serving Healthcare
To limit the hemorrhaging of costs related to health expenditures, while at the same time meeting the challenges of Quebec's aging population; stakeholders are better off taking advantage of the expertise technology companies have been developing within the healthcare system.
In Quebec, PetalMD has been collaborating with its doctors and managers for years. To discover how our technological know how can relieve the various stakeholders of the many administrative tasks that prevent them from spending as much time as possible with patients, do not hesitate to consult our case studies.