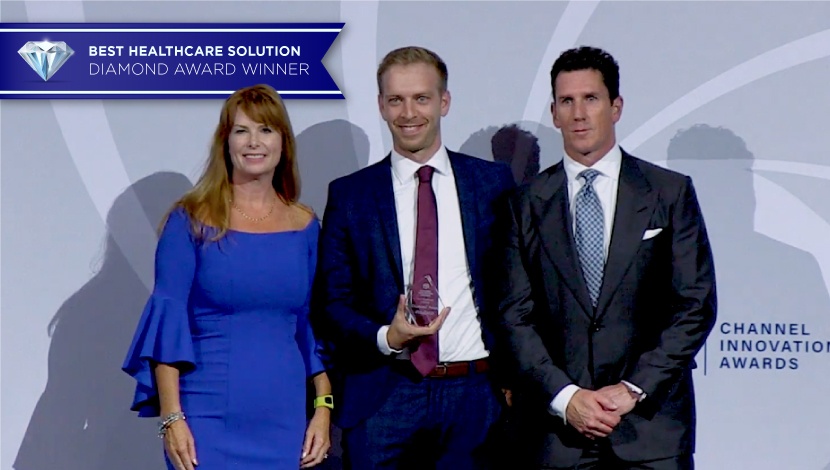 For PetalMD, 2018 has definitely been a year filled with success! Earlier this fall, our company won the IT Healthcare Company of the Year award at the Medlys Gala, and during this past winter, we won the Optimizing Innovation Technology Award at the TELUS Health Innovation Gala. Now, PetalMD has just be named the winner of the Best Healthcare Solution award at the Channel Innovation Awards.
Video
Introducing PetalMD as the winner of the Best Healthcare Solution Award
Why PetalMD Earned the Best Healthcare Solution Award
The Channel Innovation Awards were created by Computer Dealer News (CDN) to recognize the achievements of Canadian companies that are using technology to address the challenges found in the health sector.
PetalMD stands out because of the unique and ingenious nature of our software, more specifically because of the way the technological innovations developed by our company improve access to health care and save physicians precious time. PetalMD offers a physician scheduling solution, real time on-call lists, secure messaging, and a patient appointment management system.
Through numerous case studies and data collected from healthcare facilities using PetalMD solutions, our company has demonstrated that technological solutions can significantly reduce both the risk of communication error and the time invested in schedule management. Ultimately these adjustments result in health professionals having more time to focus on patients, while health facilities improve patient access.
Video
Francis Robichaud, Director of Innovation, represents PetalMD at the Channel Innovation Awards ceremony
Increasing Recognition by Digital Health Expert
A growing number of key players in the digital health community recognize the positive impact of PetalMD's technological innovations regarding access to healthcare and medical team effectiveness. With the growth of PetalMD in Europe and the inclusion of AI in our solutions, it doesn't look like this kind of continued recognition will be stopping anytime soon.
For example, a health facility that uses the tools developed by PetalMD can now obtain unique data on the medical services they provide, as well as on patient demand, no doubt an innovation that will only continue to shake up the health sector in the coming years. In any case, no matter what the future of digital health looks like, PetalMD will continue to innovate.
Our team is confident that events such as the Channel Innovation Awards will continue to help with the modernization of our health system. By sharing the recognition of important technological innovations, CDN encourages innovation and in their own way they are also participating in the modernization and improvement of our health system.