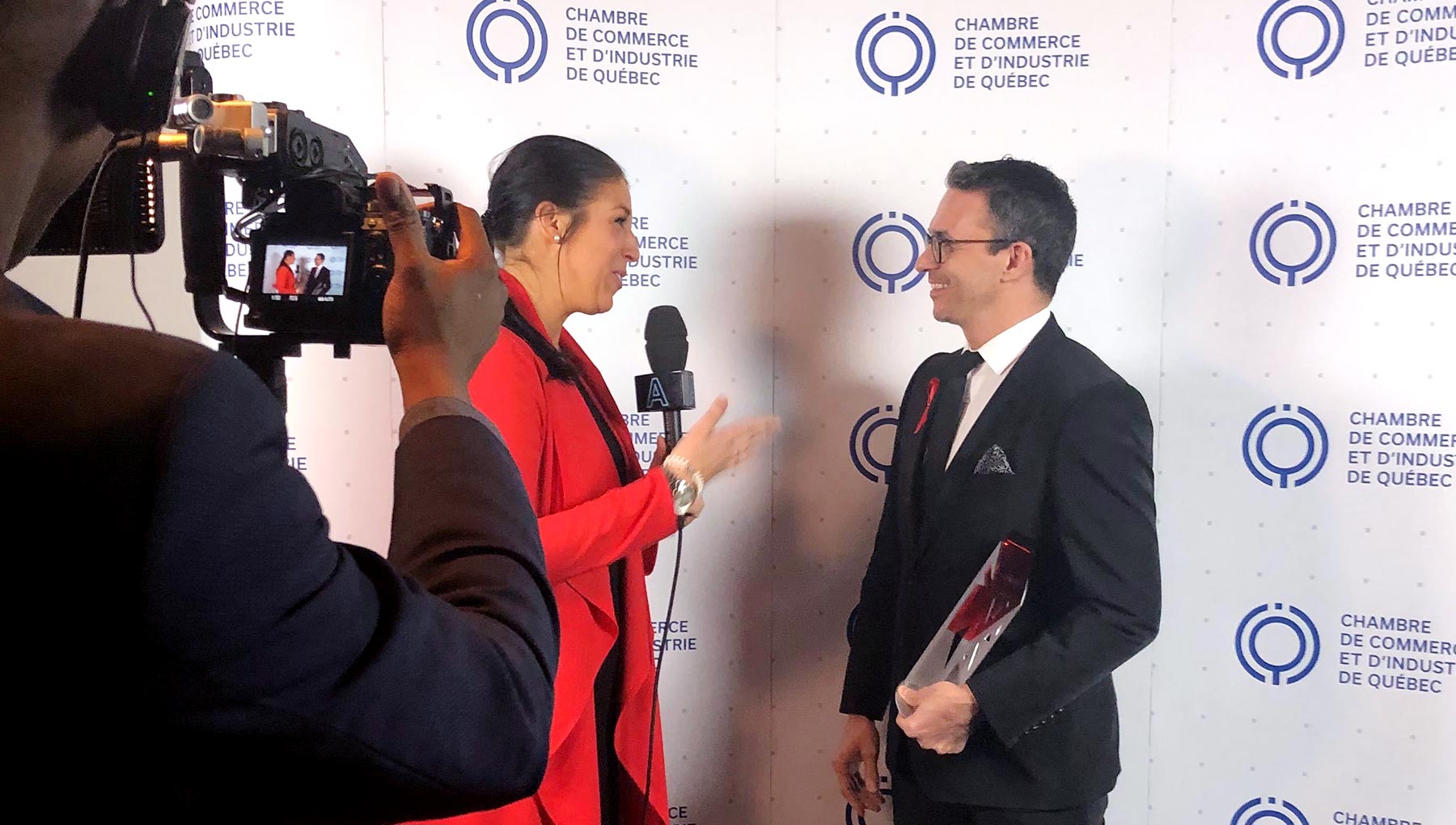 In 2018, Quebec's expertise in digital health has enabled several healthcare institutions in Europe and Canada to save valuable time, optimize physicians' schedule management and get key data on the medical services they offer. It was to highlight this achievement that Quebec's Chamber of Commerce and Industry selected PetalMD as the winner of the prestigious Award for Achievement Outside of Quebec at the 2019 Fidéides Gala. A recognition that we are very proud to receive.
---
See also : 6 Belgian Hospitals Digitize their On-Call Schedules with PetalMD
---

Celebrating the Passion and Success of Quebec Entrepreneurs at Fidéides
Approximately 800 people attended the 36th edition of the Fidéides Gala, which took place on March 14, 2019 at the Quebec City Convention Center. The event brought together the business community of the greater Quebec and Chaudière-Appalaches areas, as well as some public decision-makers, to highlight the achievements of local companies.
The PetalMD team would like to congratulate every company who took part in the Gala, finalists and winners alike, for their outstanding professional achievements in 2018, and particularly for contributing to the economic development and growth of the region.
Categories and Winner of the Fidéides 2019 (In French)
Affaires et engagement social : ABCP architecture
Commerce de détail et e-commerce : Aki Sushi
Événement ou attraction touristique de l'année : Fairmont Le Château Frontenac
Haute technologie : Prehos
Jeune entreprise : Loki Box Design
Manufacturier Innovant : SBI
RH – meilleures pratiques : Cofomo
Micro-entreprise et travailleur autonome : Productions Optimales
Projet innovant, ou contribution innovante, en construction de bâtiments : Drolet Construction
Saine gouvernance : Coopérative des consommateurs de Lorette
Services : Cliniques en santé auditive et communication
Industrie touristique de l'année : La Coopérative du Quartier Petit Champlain
Événement d'affaires de l'année : Congrès 2018 de l'UGI-ACG-NCGE
Petite entreprise de l'année : Loki Box Design
Moyenne-grande entreprise de l'année : SBI

Prix Art et affaires :

Hubert Laforge mécène Québécor



See the best photos from the Fidéides Gala in this article from Le Soleil.

Receiving the Award for Achievement Outside of Quebec
It was towards the end of the evening that the winner of the prestigious Award for Achievement Outside of Quebec was revealed by Portneuf Deputy, Vincent Caron. The award was given to Patrice Gilbert, CEO and founder of PetalMD, who was delighted that initiatives such as the Fidéides Gala showcase the important work that companies do every day to create value for Quebec.


" I'm very proud to see that as a society, we are becoming more and more aware and more aware of the importance of generating collective values. When a Quebec company owns its intellectual property, it generates a lot of value for society, especially when the company is able to export its products."

Patrice Gilbert,
PDG de PetalMD


The entire PetalMD team would also like to thank the members of the jury for their recognition of our company's efforts to promote Quebec around the world. The jury was composed of five members:
Alain Dubé (7e sens Lumières et Événements)

Jean Proteau (APN)

André Raymond (Golf la Tempête)

Vincent Thériault (Surmesur)

Francis Léonard (Alter Ego)
Case Studies About PetalMD's Success Outside of Quebec
Want to know how the PetalMD solutions improved the effectiveness of healthcare institutions in Canada and internationally? Download the case studies conducted in collaboration with leading healthcare institutions. See how they have made significant improvements in their processes following the adoption of a solution developed by PetalMD.