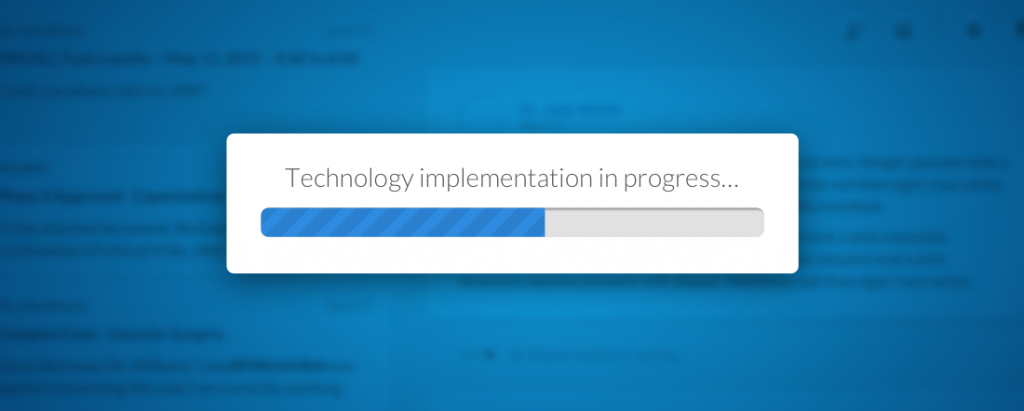 In today's technological era, fumbling through paperwork and folders should not be a reality. Not only is it difficult to keep track of, but it is messy and tedious. At this point in the game, shouldn't everyone have access to vital information anywhere, at any time? Technology in hospitals is clearly necessary for better efficiency.
But, Why SHOULD Hospitals Integrate New Technology?
Web-based solutions not only offer hospital personnel a useful tool, but also increase efficiency at the administrative and communication levels.
With the increasing need to obtain information quickly, they allow hospitals to:
access physicians' on-call schedules at the click of a button;
store digital data of schedules and documents;
reduce risks and costs of placing documents in storage;
eliminate dependency on personalized processes;
provide an essential tool for administrators, phone operators and healthcare professionals.
Can you imagine having a digital record of ALL on-call physicians and contacting them at the click of a button? The time-saving opportunities are incredible. Integrating technology in hospitals is the best way to increase productivity and move towards hospital-wide efficiency.
We understand if you don't want to take our word for it, but we aren't the only ones who think this way. Schneider Electric outlines in its study that technologies in hospitals have a positive effect on patient care and ultimately diminish costs. So, why aren't hospitals moving this up their priority list? The reasons are linked to both technical and human adoption issues.
So, Why is Adopting New Technology Difficult for Physicians and Hospitals?
Although numerous, there are five main reasons. As Forbes highlights in its article "5 Things Preventing Technology Adoption in Healthcare," some technologies can be seen as impersonal and do not answer the real issues. Money can also be a problem and some technologies even slow down physicians.
These may be branded as technical reasons, but another factor may be tied to fear of change. For years, physicians and hospital staff have been using pen and paper or similar mediums to create and manage their schedules and administrative documents. Although long and tedious, they have developed a method they are comfortable with. They may even be used to an outdated electronic system.
Why adopt something new when they feel satisfied with their current method? They work a certain way, are used to it, and are cautious of new methods. We understand.
The challenge is no longer centred on implementing new technology, but also includes getting hospital personnel to adopt the new processes. Can the reluctance be conquered? The answer, is yes.
How do you Increase the Adoption Rate of New Technology?
One thing is certain, there is no technological system that guarantees a perfect adoption rate. Laggards are present in any situation and the focus should not be on them. The best way to implement new technology is to start the conversation early with your staff.
What I mean by this is to start off by educating your staff on the importance of technology. If they do not understand the importance, they will be less likely to adopt the new processes. Also, involving the staff in the choice of the new technology will not only allow them to understand why, but also simultaneously educate them on what it can do.
Once the new technology has been chosen and implemented, to continue a smooth integration, training the staff is essential. They will be using it and therefore need to see the added value of its functionalities. This is where you can eliminate the possibility of it slowing down your physicians. Make sure the company you choose not only provides this, but understands your needs as well.
An example of a hospital that successfully integrated a cloud-based scheduling solution is Hôpital Montfort in Ontario. The result: smooth adoption and hospital-wide efficiency.
Hôpital Montfort, A Success Story
Hôpital Montfort, a university teaching hospital, has more than 1,800 employees to manage and keep track of. Their recent expansion, where they doubled their staff, has put pressure to continue running the hospital efficiently.
With this in mind, it was only natural to integrate PetalMD within the hospital. With a smooth adoption, they increased their efficiency, decreased their costs by 50% all the while improving patient care coordination. The hospital's partnership with PetalMD has allowed them to focus on what's important to them; patient care.
With the help of a dedicated services and support team that PetalMD provided them, the entire adoption of the web-based solution exceeded their expectations.
"The wow experience is that the IT department hasn't heard anything since the implementation of PetalMD, which means that it is working fine."
– Jean-Claude Lemonde, CIO

To learn more about the solution successfully adopted by Hôpital Montfort, download the document below.